Themes & Books
April is going to be spectacularly springy! We will learn about careers as Entrepreneurs, Farmers, Gardeners, Painters, and Florists. We will read How You Can Be an Entrepreneur, Big Red Farm, The Tiny Seed, To Be An Artist, and Flowers.
Events
Bring it: 3/30 A folder | 4/5 Bring in a package of seed | 4/11 Bring 4 hard boiled eggs (Preschool only) | 4/21 A paint brush
Staff Development Training 4/5 & 4/6 | Why is it important to plan STEAM activities for preschool | Every month our teachers learn something new, take a look at something old from a new perspective, that reinforces and reinvigorates previous education and training, or just have some hands-on fun through our regular training programs. | Learn more about our happy teachers here.
Egg decorating 4/11: We will provide fake eggs for Early Learners, Tiny Tots and Toddlers. Preschool parents please bring 4 hard boiled eggs on Monday 4/11 for us to decorate at school. Reminders will go home.
Wear it: 4/13 An apron | 4/26 A shirt or pants with flowers
Spring Party 4/14: Early Learners & Toddlers look for signup sheet for spring party item signups. Preschoolers will receive a notice on what to bring to the party.
Spring Photos 4/26 & 4/27 9-12: : 4/26 Infants & Toddlers 4/27 Preschool (Cap & Gown for Busy Bees!) Please complete order form and include payment by picture day. Look for proofs within 4 weeks. Return for refund if any problems. You can either have your child wear his/her photo outfit or send an outfit to change into. Graduating Busy Bees will take their graduation pictures in full caps & gowns provided by the school. | If your child can't make the designated day, let us know and we'll make sure the pictures are taken on the other day. Sample Envelope and prices. (If an order form was not completed one pose will be taken and proofs will be provided within 4 weeks.)
Reminders
Drop off and pick up NO MASKS NEEDED: 7:30-5:30 no masks required outside. Masks are still required inside all the time.
Indoor Mask Requirement Unchanged: All children 24 months and older are required to have a box of disposable masks in their cubby that have multiple layers of non-woven material with a nose wire. For example this 3 ply surgical mask with a wire nose from Amazon. (LA Unified's decision to make masks optional has no effect on preschools or the recommendations by the LA County Department of Public Health, the California Department of Public Health and the Department of Social Services have not been modified for preschool. Masks are still HIGHLY recommended statewide for the safety of the children and teachers in preschool. As always the safety of all the children, teachers and families is our top priority.)
COVID Prevention: For the safety of the children, we are still wearing masks inside & parents can come into the school by appointment only with masks on and proof of immunization and booster. Keep following our important illness & safety protocols at home and we'll do the same at school.
We don't expect any major changes until we receive the all clear from the Department of Social Services and The County Of Los Angeles Department Of Public Health Order Of The Health Officer. | How we are keeping children, parents and teachers safe click here.
Wear Sunscreen Everyday: It's Sunscreen Time! If you've stopped applying daily sunscreen, it's time to get back into the swing of things. Children (10 months- 6yrs) should come to school wearing an SPF 30 or more on all exposed areas of the skin. If you would like us to re-apply a medication form must be completed. We also recommend wearing a hat. We will be having a lot of outdoor fun! (Always consult your child's physician.)
Spring Change of Clothes: Please make sure your child has at least one complete set of extra spring clothes & shoes. Don't forget to label everything.
Labeling your child's items: Please label everything with your child's name. All clothing, bags, lunch boxes, shoes, blankets, sheets… yes everything. Infant & Toddler Center, please label all bottles, cups, individual food containers, etc with your child's name and date before the items are brought into school. Please label Breast Milk, newly pumped or frozen with your child's name & date. You can find lots of labels on Amazon. We use Evelots Food Labels and Tinabless Bottle Labels.
Would you like to visit your child's classroom or chat with the teachers? Please email [email protected] to set something up. You can visit virtually through Google Meet, talk on the phone or visit the class in person. In person visits require proof of COVID vaccination, booster and a mask.
Immunizations: Please make sure to keep up with your child's immunizations and update the Sandbox Parent Portal whenever your child gets a vaccine.
Rain – Dropping off and picking up in the rain: INFANT & TODDLER CENTER: If it is raining, take your child directly to the appropriate door. At pickup go back to the same door. Please always remain outside. Teachers will help children wash their hands inside. PRESCHOOL: If it is raining, use the front stairs and office entry and stay in the office.
Illness Policy: We follow a strict written Illness Policy
All families & teachers self-check at home and are checked before entry for any signs of illness. Temperatures are checked. Anything >100° stays home. All illnesses stay home.
Any COVID-19 symptoms require 1+ negative COVID-19 tests and/or 5-10 day quarantine and no symptoms. And administration/director approval. Read More
If your child visits a doctor for any illness, please ask for a return authorization note. Halsey Schools reserves the right to exclude a child from school at any time for any reason, even if a doctor or other recommends otherwise
If we have 3 or more children come down with something (other than COVID-19) we provide more information on the illness.
Stay home with your child if you, your spouse or anyone else who is in your home regularly like a nanny, grandparent, sibling, cleaning person or your child tests positive for COVID-19. And notify us immediately.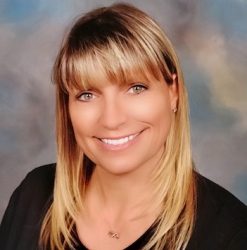 Latest posts by Jenni Rice - Owner & Director
(see all)