Themes & Books
This month we will learn about Bats, Bears, Mice, & Chipmunks. We will read Stellaluna, Bears Don't Bounce, Little Mouse Biddle Mouse, & Discovering My World Chipmunks. | Are you reading at home every night? I hope so! Here are some sight words all our preschoolers will learn by the time they graduate! You can work on them at home too here: Sight words for preschoolers.
Events
Cultural diversity & sharing family traditions: We encourage your families to join us in our holiday celebrations by sending special snacks, stories, pictures or any fun things you wish to share. Please arrange with your child's teachers.
Shhhhh. Surprise Readers: We have been having a lot of fun with our parents visiting as surprise readers. If you would like to participate, please arrange with your child's teachers or Sign up here. Proof of COVID vaccination and all boosters required.
Stardreams Dance & Gymnastics Recital: 12/6 10:00 & 10:45 If your preschool child is in Dance & Gymnastics there will be a small outdoor recital. Please let us know if you will be attending. Please verify with your child's teachers what time your child will be performing.
Wear it: Batman or all black 12/6 | Wear festive Holiday shirts/colors 12/15-22 | The color brown 12/28
Bring it: Your favorite teddy bear 12/12
Staff Development Training 12/13 & 12/14: Helping Children Build Healthy Relationships. | Every month our teachers learn something new, takes a look at something old from a new perspective, reinforces and reinvigorates previous education and training, or just have some hands-on fun through our regular training programs. | Learn more about our happy teachers here.
Classroom Holiday Social 12/15: Come inside & visit your child's classroom for a special holiday celebration with wonderful activities and parent provided holiday inspired snacks. Please look for a note assigning your item the week before. (If you don't want to bring anything that's fine too.) Infant's 9:30-10:00, Toddlers & Tiny Tots 10:00-10:30, Preschool 10:30-11:00. (Wear festive Holiday shirts/colors 12/15-22)
School Closed 12/23 Fri & 26 Mon: Be safe and have a very Wonderful Holiday!
School Closed 12/30 Fri & 1/2 Mon: Have a safe and very Happy New Year!
Reminders
Holiday Plans: Will your child miss any days to be with family? If so, we hope to be able to give the teachers some extra time off with their families. Please let us know your holiday plans by inputting any vacation time / days out through your parent portal. (We will be closed Fri 12/23, Mon 12/26, Fri 12/30, & Mon 1/2.)
Go to your Parent Portal Page
Click on Calendar
Click on Add vacation
Click on Edit Vacation
Input your Start Date
Input your End Date
Click on Save
COVID Vaccine: Lots of children have already received the COVID vaccine. If your child hasn't received it yet, it's time to get it ASAP. They are available to everyone 6 months of age and older. Parents have reported no major issues with getting the vaccine. Please protect your child and get the vaccine ASAP before all the holiday gatherings are in full swing. 🙂
January Billing: January billing will take place after the 1st of January instead of December 20th. So your ACH and Credit Card charges will not be posted until on or after January 1. | On January 20th the normal billing schedule will resume for February tuition.
Hot Beverages: Please remember to keep coffee and other hot beverages off campus.. For safety reasons, there is no drinking of hot beverages allowed on any of Halsey Schools grounds, or on any Halsey Schools trips or other events. If you would like to drink hot beverages, please do so off campus or before coming dropping off or picking up your child.
Sheets & Blankets: All children must have a sheet & blanket for nap time everyday. Please make sure to send a sheet & blanket at the start of the week. Please have your child's name printed on them. Thank you!
Winter change of clothes: Please make sure your child has a weather appropriate change of clothing.
Children MUST be signed in/out. Please sign in/out every day: Sign in using this link or let us know to do it for you. Sign in/out on phone. Or at HalseySchools.com click on the down arrow on the upper right and find Sign in/out. See instructions here.
Easing of some COVID restrictions 🙂
Mask update: It's time to put the masks away for now. (If local transmissions change or if we have a case on campus, have masks ready just in case.) | Parents: No masks required indoors but they can still be worn inside. Proof of COVID vaccine and all boosters still required to come inside. | Children: No masks required regardless of vaccination status. Please let us know if you still want your child to wear a mask indoors. | Teachers: No masks required but they are still optional and some teachers may still wear them at their own discretion. CDC info
Parents Welcome Inside: We are slowly easing some of our restrictions. Parents are welcome to visit the classes inside a family at a time. Parents must provide proof of COVID vaccines & boosters. Parents must wash their hands and their children's hands when they arrive and before leaving for at least 20 seconds. Hand sanitizers or wipes can not be used. All visitors must be healthy & have no symptoms.
Parent Volunteers: We love visits and help from parents like YOU! If you would like to volunteer for anything, please let any teacher know or Sign up here. All volunteers are required to prove COVID vaccination and boosters. 🙂
Parents are Welcome Outside: No proof of immunization and boosters needed. Parents are welcome to hang out outdoors on the playgrounds with their child. Come have some fun!
Illness Policy: We follow a strict written Illness Policy
COVID Prevention: Keep following our important illness & safety protocols at home and we'll do the same at school.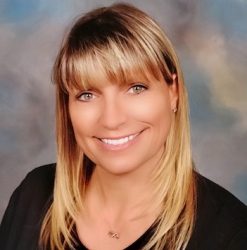 Latest posts by Jenni Rice - Owner & Director
(see all)