Themes & Books
In February we will learn about careers as Dentists, Doctors, Nutritionists, and Nurses. We will read Going to the Dentist, Going to the Doctor, Vegetable Soup, and A day in the Life of a Nurse.
Events
Bring it: 1/31 A toothbrush to paint with | 2/16 Something healthy to eat
Wear it: 2/8 A white shirt | 2/25 Something with a Heart on it
Staff Development Training 2/8 & 2/9: Brain Development in Children Ages 2-7 | Every month our teachers learn something new, takes a look at something old from a new perspective, reinforces and reinvigorates previous education and training, or just have some hands-on fun through our regular training programs. | Learn more about our happy teachers here.
Valentine's Parties 2/14 10:00-12:30: Tiny Tot & Toddler Parents – Please look for the sign-up sheet on the front door outside your child's classroom about a week before. Please do not send candies. We suggest: stickers, stamps, pencils, squishy bouncy balls, Valentine tattoos, etc. Preschool parents – Please look for a party item request note that will be sent home the week before the party. A list of the children's names will be sent home, if you would like to make personal valentines cards/gifts. Please do not send candies. We suggest: stickers, stamps, pencils, squishy bouncy balls, Valentine tattoos, etc.
School Closed 2/21: Happy Presidents day.
Reminders
Updated Mask Requirement: All children 24 months and older are required to have a box of disposable masks in their cubby that have multiple layers of non-woven material with a nose wire. For example this 3 ply surgical mask with a wire nose from Amazon.
Would you like to visit your child's classroom or chat with the teachers? Please email [email protected] to set something up. You can visit virtually through Google Meet, talk on the phone or visit the class in person. In person visits require proof of COVID vaccination, booster and a mask.
January & February Billing: January billing took place after the 1st of January instead of December 20th. | On January 20th the normal billing schedule resumed for February tuition.
2022 – 2023 Enrollment: It's time to make plans for the next school year. Your child's space is automatically reserved. If your child will not be attending for the upcoming school year, please complete this online form by 2/15. We look forward to celebrating our 42nd year with you and your family. After March 1, we will begin filling spaces with children on our waiting list. New applications will also be accepted if space permits. Space is limited in every class.
Materials & Supplies fee: On February 20 your account will automatically be billed a non-refundable $250 materials & supplies fee (per family). This fee is used to purchase new supplies & equipment for the children. If you paid this fee in September, started this year or if your child is a graduating Busy Bee the fee is waived this time.
Immunizations: Please make sure to keep up with your child's immunizations and update the Sandbox Parent Portal whenever your child gets a vaccine.
Rain – Dropping off and picking up in the rain: INFANT & TODDLER CENTER: If it is raining, take your child directly to the appropriate door. At pickup go back to the same door. Please always remain outside. Teachers will help children wash their hands inside. PRESCHOOL: If it is raining, use the front stairs and office entry and stay in the office.
Hot Beverages: Please remember to keep coffee and other hot beverages off campus.. For safety reasons, there is no drinking of hot beverages allowed on any of Halsey Schools grounds, or on any Halsey Schools trips or other events. If you would like to drink hot beverages, please do so off campus or before coming dropping off or picking up your child.
Sheets & Blankets: All children must have a sheet & blanket for nap time everyday. Please make sure to send a sheet & blanket at the start of the week. Please have your child's name printed on them. Thank you!
Winter change of clothes: Please make sure your child has a weather appropriate change of clothing.
COVID Prevention: For the safety of the children, we are still wearing masks inside & parents can come into the school by appointment only with masks on and proof of immunization and booster. Keep following our important illness & safety protocols at home and we'll do the same at school.
Drop off and pick up: 7:30-5:30 remains the same with masks on for parents, teachers and children 2+ | Self home checks and staying home when ill remains the same. | Children 2+ will no longer be required to wear masks during outside playground time and neither will teachers. However, masks are still required inside all the time and outside for pickup and drop off.
We don't expect any other major changes until we receive the all clear from the Department of Social Services and The County Of Los Angeles Department Of Public Health Order Of The Health Officer. | How we are keeping children, parents and teachers safe click here.
Illness Policy: We follow a strict written Illness Policy
All families & teachers self-check at home and are checked before entry for any signs of illness. Temperatures are checked. Anything >100° stays home. All illnesses stay home.
Any COVID-19 symptoms require 1+ negative COVID-19 tests and/or 5-10 day quarantine and no symptoms. And administration/director approval. Read More
If your child visits a doctor for any illness, please ask for a return authorization note. Halsey Schools reserves the right to exclude a child from school at any time for any reason, even if a doctor or other recommends otherwise
If we have 3 or more children come down with something (other than COVID-19) we provide more information on the illness.
Stay home with your child if you, your spouse or anyone else who is in your home regularly like a nanny, grandparent, sibling, cleaning person or your child tests positive for COVID-19. And notify us immediately.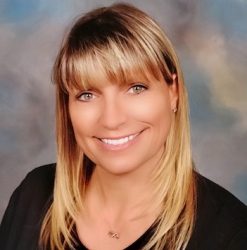 Latest posts by Jenni Rice - Owner & Director
(see all)