Themes & Books
This month we'll learn about Engineers, Architects, Daddies, Construction Workers, & College Graduates. We will read Monsters on Machines, Building Structures and Towers, When A Dad Says I Love you, A Day in The Life of a Construction Worker, and Mahalia Mouse Goes to College. Don't forget to read at home every single day.
Events
School Closed 5/30: Memorial Day. Have a great weekend! We'll be thinking about you.
Staff Development Training 5/31 & 6/1 | The Importance of Parent Involvement in Early Childhood Education | Every month our teachers learn something new, take a look at something old from a new perspective, that reinforces and reinvigorates previous education and training, or just have some hands-on fun through our regular training programs. | Learn more about our happy teachers here.
Bring it: 6/3 Legos or similar blocks | 6/13-17 A picture of me and daddy (anytime this week) | 6/22 A PLAY tool
Wear it: 6/3 A shirt with legos on it | 6/7 A shirt with buildings on it | 6/13-17 Wear Daddy's Favorite Color
Stardreams dance recital outdoors at the preschool front yard 6/14 10:00: If your child participates in our Stardreams dance come watch them show off what they have been learning! Look for more info in an email directly from Stardreams.
Daddy's Craft Week 6/13-17 8:00-5:00: Come on in and do a special outdoor Daddy & Me project with your child. Drop off and pick up times are usually the best and easiest times. However, you can also speak with a teacher & arrange another time that works for you.
Outdoor Daddy Donut Party 6/17: Daddies, Grandpas, Great Grandpas & Uncles come join us for your special celebration with tasty donuts and refreshments. All you have to do is show up and have some fun! Infants-9:30, Tiny Tots-10:00, Toddlers-10:30, Preschool-11:00.
School Closed 6/20: Juneteenth. Have a great weekend! We'll be thinking about you.
Busy Bees' Outdoor Graduation 6/24 10:00:  Join us for our Annual Busy Bees' Preschool Graduation Ceremony outside on the Infant Center Play yard. (Please limit your audience party size to 6 .) Parent provided refreshments will be served afterwards. If you would like to bring something, please sign up with Ms Jeri & Ms Ana and drop off your treats before or right after the graduation. Parent's usually take children home afterwards but your children are welcome to stay. If you need care before 9:30, please drop your child off as usual. All graduates should be at the preschool by 9:30 to get ready. 🙂 Bring some kleenex. 
Report Cards 6/24: Dragonflies & Busy Bees will receive their report cards today. They are designed to let you know what your children have learned and to make them feel good. We are so proud of what they have learned aren't you?
Camp Halsey 6/24: Time to think about summer! The learning fun doesn't end at Halsey Schools; The summer is when it really takes off! Currently enrolled families automatically continue for the summer. New families & Kindergartners can start at anytime as long as space is available. Busy Bees who graduated last year are welcome back too!
Reminders
Student Birthday Celebrations at school: We LOVE celebrating your child's birthday at school! You are welcome to bring healthier food options like fruit, muffins, bagels, etc). Parents are welcome to come & celebrate too! As always, parents must show proof of vaccination & wear masks to come into the classroom. Please make all celebration arrangements with your child's teachers.
Student Birthday Celebrations at home: If you are planning a birthday celebration outside of school, we would be happy to help with handing out the invitations. Just ask for a list of the children's names, fill out the invitations at home and bring to school for us to pass out.
Sandbox App Photos: We do our best to send daily photos and updates. However, if you don't receive anything, know everything is fine. It just means the app is either processing or we just didn't have time to do it. Our priority is always direct interaction and supervision of the children. We take photos when we can, but it doesn't always happen. Thank you for your understanding.
Family Vacations: Will you be taking a summer vacation? Please block out dates in your Parent Portal at least two weeks before your vacation. This will allow us to plan accordingly for our daily activities and not worry about why your child is not at camp. Thank You!
Teacher Vacations: Our teachers take well deserved time off year round but many vacations take place during the summer. You will notice some new and returning faces as we give the teachers the breaks they deserve. One of the great things about Halsey Schools is our team teaching atmosphere that allows your children to bond with our entire staff. So even when some of the teachers are hanging out at the beach, there will always be other familiar faces at school and camp.
Wear Sunscreen Everyday: It's Sunscreen Time! If you've stopped applying daily sunscreen, it's time to get back into the swing of things. Children (10 months- 6yrs) should come to school wearing an SPF 30 or more on all exposed areas of the skin. If you would like us to re-apply a medication form must be completed. We also recommend wearing a hat. We will be having a lot of outdoor fun! (Always consult your child's physician.)
Tuition Rates: Our tuition rates are adjusted annually. If you are not yet on the current rate schedule, the adjustment takes place on your June 20th statement for July billing. (Tuition for graduating Busy Bees will not change.) Click here or click on Tuition & FAQs above or download the parent handbook to see the current rates.
Would you like to visit your child's classroom or chat with the teachers? Please email [email protected] to set something up. You can visit virtually through Google Meet, talk on the phone or visit the class in person. In person visits require proof of COVID vaccination, booster and a mask.
Immunizations: Please make sure to keep up with your child's immunizations and update the Sandbox Parent Portal whenever your child gets a vaccine.
Illness Policy: We follow a strict written Illness Policy
COVID Prevention: For the safety of the children, we are still wearing masks inside & parents can come into the school by appointment only with masks on and proof of immunization and booster. Keep following our important illness & safety protocols at home and we'll do the same at school.
We don't expect any major changes until we receive the all clear from the Department of Social Services and The County Of Los Angeles Department Of Public Health Order Of The Health Officer. | How we are keeping children, parents and teachers safe click here.
Indoor Mask Requirement Unchanged: All children 24 months and older are required to have a box of disposable masks in their cubby that have multiple layers of non-woven material with a nose wire. For example this 3 ply surgical mask with a wire nose from Amazon. (LA Unified's decision to make masks optional has no effect on preschools or the recommendations by the LA County Department of Public Health, the California Department of Public Health and the Department of Social Services have not been modified for preschool. Masks are still HIGHLY recommended statewide for the safety of the children and teachers in preschool. As always the safety of all the children, teachers and families is our top priority.)
All families & teachers self-check at home and are checked before entry for any signs of illness. Temperatures are checked. Anything >100° stays home. All illnesses stay home.
Any COVID-19 symptoms require 1+ negative COVID-19 tests and/or 5-10 day quarantine and no symptoms. And administration/director approval. Read More
If your child visits a doctor for any illness, please ask for a return authorization note. Halsey Schools reserves the right to exclude a child from school at any time for any reason, even if a doctor or other recommends otherwise
If we have 3 or more children come down with something (other than COVID-19) we provide more information on the illness.
Stay home with your child if you, your spouse or anyone else who is in your home regularly like a nanny, grandparent, sibling, cleaning person or your child tests positive for COVID-19. And notify us immediately.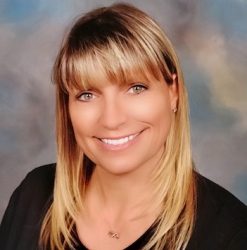 Latest posts by Jenni Rice - Owner & Director
(see all)