Weekly Themes & Stories for March
[quote author_name="Jenni Rice" author_description="Director & Owner" author_image="https://halseyschools.com/wordpress/wp-content/uploads/2013/11/Jenni-Rice-Owner-Director.jpg" size="small" style="solid"]
This month we will be learning about: Giraffes, Hippopotami, Zebras and Cheetahs.  We will be reading: A Giraffe and a Half, Chocolate Chippo Hippos, Animal Strike at the Zoo. It's True!, and The Cheetah's Spots. You can cuddle up and read these great books with your child at home too. [/quote]
Wear it: 3/2 Pajama Day, Dr Seuss Day, Read Across America: In honor of Dr. Seuss' Birthday it's National Read Across America day. Come to school in your pajamas all day long! Please have your child wear PJs to school and bring in a favorite Dr. Seuss story to share with the class. All children; Infants, Toddlers & Preschoolers will join in on the fun!
Wear it: 3/2 Pajamas! | 3/26 Cheetah print clothes
Staff Development Training 3/10 & 3/11 : Modeling Healthy Eating for Children. | Every month our staff learns something new, takes a look at something old from a new perspective, reinforces and reinvigorates previous education and training, or just has some hands-on fun through our regular training programs.
Bring it: 3/11 Small bag of Chocolate Chips
Parent Social at the Preschool 3/19: 5:00-6:00 Pizza, Discovery & Play centers… Meet other parents and children and have some fun! Infants, Toddlers, Preschool. Everyone's invited. Please RSVP here Temporarily postponed
Field Trip: Shadow Ranch Park 3/26 9:30-12:00 Lunch @ school | 22633 Vanowen St, West Hills, CA 91307 | Please sign up here. | Field trips are available for Busy Bees, Dragonflies, Penguins 3+ years old and potty trained.  All children must wear their Halsey Shirt on all field trips. If your child is in the Panda class, he/she may attend the trip if you or your spouse or other loved one join us. Parents are always welcome to attend and space is limited. So let us know if you want to join us right away. Sign up for Field Trips here.   Temporarily postponed
Bring it: 3/30 Stuffed Lion
Assessments & Parent Conferences 3/30-4/3:  Written assessments are handed out 3/23. Your child's teachers carefully observe your child to assess for appropriate developmental milestones. Children develop at their own pace so the criteria we follow offers a broad age range for each milestone. Some children might reach a designated milestone at 7 months old. But others might reach it at 4 months or 10 months.  If you would like to schedule a conference with your child's teachers, sign up below. Of course you can always call or ask a quick question too.
Reminders
Labeling your child's items: Please label everything with your child's name. All clothing, bags, lunch boxes, shoes, blankets, sheets… yes everything. Infant & Toddler Center, please label all bottles, cups, individual food containers, etc with your child's name and date before the items are brought into school. Please label Breast Milk, newly pumped or frozen with your child's name & date. You can find lots of labels on Amazon. We use Evelots Food Labels and Tinabless Bottle Labels.
Sheets & Blankets: All children must have a fitted standard size crib sheet & blanket for nap time everyday sent at the begging of the week.  Please have your child's name printed on them.
Wear Sunscreen Everyday: It's Sunscreen Time! If you've stopped applying daily sunscreen, it's time to get back into the swing of things. Children (10 months- 6yrs)  should come to school wearing an SPF 30 or more on all exposed areas of the skin. If you would like us to re-apply a medication form must be completed. We also recommend wearing a hat. We will be having a lot of outdoor fun!  (Always consult your child's physician.)
Spring Change of Clothes: Please make sure your child has at least one complete set of extra spring clothes & shoes. Don't forget to label everything.
Cold & Flu Season:  At Halsey Schools, we follow our written Illness Policy and written illness prevention procedures.  We make every effort to assure your child contracts as few illnesses as possible.  However, most children and adults will contract at least one illness between now and April.  Remember to wash your child's hands everyday before leaving school or any other social event.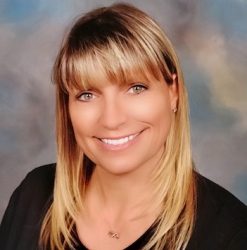 Latest posts by Jenni Rice - Owner & Director
(see all)