Themes & Books
In March we will learn about careers as Librarians, Grocers, Waste Collectors, Postal Workers. We will read Lola at the Library, Working at a Grocery Store, Here Comes the Recycling Truck and The Post Office Book.
Events
Bring it: 3/1 A book | 3/9 A grocery ad | 3/25 A piece of mail.
3/2 Pajama Day, Dr Seuss Day, Read Across America: In honor of Dr. Seuss' Birthday it's National Read Across America day. Come to school in your pajamas all day long! Please have your child wear PJs to school and bring in a favorite Dr. Seuss story to share with the class. All children; Infants, Toddlers & Preschoolers will join in on the fun!
Wear it: 3/2 Wear pajamas | 3/17 You better wear green! It's St. Patrick's DAY!
Staff Development Training 3/8 & 3/9: Optimizing Outdoor Play Time | Every month our teachers learn something new, takes a look at something old from a new perspective, reinforces and reinvigorates previous education and training, or just have some hands-on fun through our regular training programs. | Learn more about our happy teachers here.
Assessments & Parent Conference CALL 3/28-4/1: Written assessments are handed out 3/21. Your child's teachers carefully observe your child to assess for appropriate developmental milestones. Children develop at their own pace so the criteria we follow offers a broad age range for each milestone. Some children might reach a designated milestone at 7 months old. But others might reach it at 4 months or 10 months. If you would like to schedule a conference by phone with your child's teachers, sign up below. Of course you can always call or ask a quick question too.
Reminders
Labeling your child's items: Please label everything with your child's name. All clothing, bags, lunch boxes, shoes, blankets, sheets… yes everything. Infant & Toddler Center, please label all bottles, cups, individual food containers, etc with your child's name and date before the items are brought into school. Please label Breast Milk, newly pumped or frozen with your child's name & date. You can find lots of labels on Amazon. We use Evelots Food Labels and Tinabless Bottle Labels.
Wear Sunscreen Everyday: It's Sunscreen Time! If you've stopped applying daily sunscreen, it's time to get back into the swing of things. Children (10 months- 6yrs) should come to school wearing an SPF 30 or more on all exposed areas of the skin. If you would like us to re-apply a medication form must be completed. We also recommend wearing a hat. We will be having a lot of outdoor fun! (Always consult your child's physician.)
Spring Change of Clothes: Please make sure your child has at least one complete set of extra spring clothes & shoes. Don't forget to label everything.
Mask Requirement: All children 24 months and older are required to have a box of disposable masks in their cubby that have multiple layers of non-woven material with a nose wire. For example this 3 ply surgical mask with a wire nose from Amazon.
Would you like to visit your child's classroom or chat with the teachers? Please email [email protected] to set something up. You can visit virtually through Google Meet, talk on the phone or visit the class in person. In person visits require proof of COVID vaccination, booster and a mask.
Immunizations: Please make sure to keep up with your child's immunizations and update the Sandbox Parent Portal whenever your child gets a vaccine.
Rain – Dropping off and picking up in the rain: INFANT & TODDLER CENTER: If it is raining, take your child directly to the appropriate door. At pickup go back to the same door. Please always remain outside. Teachers will help children wash their hands inside. PRESCHOOL: If it is raining, use the front stairs and office entry and stay in the office.
COVID Prevention: For the safety of the children, we are still wearing masks inside & parents can come into the school by appointment only with masks on and proof of immunization and booster. Keep following our important illness & safety protocols at home and we'll do the same at school.
Drop off and pick up: 7:30-5:30 remains the same with masks on for parents, teachers and children 2+ | Self home checks and staying home when ill remains the same. | Masks are still required inside all the time.
We don't expect any major changes until we receive the all clear from the Department of Social Services and The County Of Los Angeles Department Of Public Health Order Of The Health Officer. | How we are keeping children, parents and teachers safe click here.
Illness Policy: We follow a strict written Illness Policy
All families & teachers self-check at home and are checked before entry for any signs of illness. Temperatures are checked. Anything >100° stays home. All illnesses stay home.
Any COVID-19 symptoms require 1+ negative COVID-19 tests and/or 5-10 day quarantine and no symptoms. And administration/director approval. Read More
If your child visits a doctor for any illness, please ask for a return authorization note. Halsey Schools reserves the right to exclude a child from school at any time for any reason, even if a doctor or other recommends otherwise
If we have 3 or more children come down with something (other than COVID-19) we provide more information on the illness.
Stay home with your child if you, your spouse or anyone else who is in your home regularly like a nanny, grandparent, sibling, cleaning person or your child tests positive for COVID-19. And notify us immediately.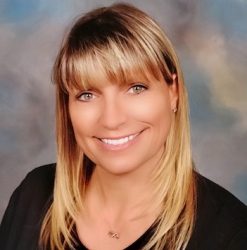 Latest posts by Jenni Rice - Owner & Director
(see all)