Themes & Books
May is a fun month full of spring learning fun and special time with Mommy! We will learn about Mommies, Bakers, Veterinarians, & Zookeepers. We will read The Best Mother, A Cake All For Me, Let's Meet a Veterinarian, and Eloise Visits the Zoo. Do you read with your child every night? You should. It's a great way to establish a bedtime routine and spend quality time together.
Events
Bring it: 5/2-6 A picture of you and mommy | 5/10 A cookbook | 5/18 A stuffed animal
Wear it: 5/2-6 A mommy & me shirt | 5/26 An animal shirt
National Screen Free Week 5/2-5/8: Turn off all your screens for a week. Can you to do it? If you can't do it for a week, try it for an hour or two a night. You'll be amazed what a difference it makes. There are lots of things to do that don't involve screens and encourage family time.
Mommy's Craft Week 5/2-6: Mommies, Grandmas and Great Grandmas join us anytime this week between 9 a.m. – 5 p.m. for a special Mommy & Me activity outside your child's classroom. Please arrange a time that works for you with your child's teachers. Drop off and pick up times are usually the best and easiest.
Staff Development Training 5/3 & 5/4 | Teachers' Emotional Consistency Matters for Young Children | Every month our teachers learn something new, take a look at something old from a new perspective, that reinforces and reinvigorates previous education and training, or just have some hands-on fun through our regular training programs. | Learn more about our happy teachers here.
Mother's Day Outdoor Celebration 5/6: Mommies, Grandmas & Great Grandmas join us for a yummy celebration in your honor full of treats, and lots of fun. Infant Center – 9:30, Tiny Tots – 10:00, Toddlers – 10:30, Preschool – 11:00.
Teacher Appreciation Week 5/9-13: We all know how important praise and recognition is for our children. Sometimes we forget how important it is for our teachers too. Please let them know how much we all appreciate them. A little gesture can make a huge difference.
Pet Share Week 5/16-20: Share your pets this week! All pets must be very friendly. Small animals in cages make the best visitors but dogs, cats & other are welcome too. Pets that live in cages or bowls like hamsters, fish and lizards are welcome to stay for the day. Other pets like dogs and cats may come for short outside visits, when you pick up or drop off, but can not be left at school. You can bring a picture of your pet to share instead. Please arrange all pet visits with your child's teachers.
School Closed 5/30: Memorial Day. Have a great weekend! We'll be thinking about you.
Reminders
Would you like to visit your child's classroom or chat with the teachers? Please email [email protected] to set something up. You can visit virtually through Google Meet, talk on the phone or visit the class in person. In person visits require proof of COVID vaccination, booster and a mask.
Immunizations: Please make sure to keep up with your child's immunizations and update the Sandbox Parent Portal whenever your child gets a vaccine.
Wear Sunscreen Everyday: It's Sunscreen Time! If you've stopped applying daily sunscreen, it's time to get back into the swing of things. Children (10 months- 6yrs) should come to school wearing an SPF 30 or more on all exposed areas of the skin. If you would like us to re-apply a medication form must be completed. We also recommend wearing a hat. We will be having a lot of outdoor fun! (Always consult your child's physician.)
Spring Change of Clothes: Please make sure your child has at least one complete set of extra spring clothes & shoes. Don't forget to label everything.
Labeling your child's items: Please label everything with your child's name. All clothing, bags, lunch boxes, shoes, blankets, sheets… yes everything. Infant & Toddler Center, please label all bottles, cups, individual food containers, etc with your child's name and date before the items are brought into school. Please label Breast Milk, newly pumped or frozen with your child's name & date. You can find lots of labels on Amazon. We use Evelots Food Labels and Tinabless Bottle Labels.
Dropping off and picking up in the rain: INFANT & TODDLER CENTER: If it is raining, take your child directly to the appropriate door. At pickup go back to the same door. Please always remain outside. Teachers will help children wash their hands inside. PRESCHOOL: If it is raining, use the front stairs and office entry and stay in the office.
Illness Policy: We follow a strict written Illness Policy
COVID Prevention: For the safety of the children, we are still wearing masks inside & parents can come into the school by appointment only with masks on and proof of immunization and booster. Keep following our important illness & safety protocols at home and we'll do the same at school.
We don't expect any major changes until we receive the all clear from the Department of Social Services and The County Of Los Angeles Department Of Public Health Order Of The Health Officer. | How we are keeping children, parents and teachers safe click here.
Indoor Mask Requirement Unchanged: All children 24 months and older are required to have a box of disposable masks in their cubby that have multiple layers of non-woven material with a nose wire. For example this 3 ply surgical mask with a wire nose from Amazon. (LA Unified's decision to make masks optional has no effect on preschools or the recommendations by the LA County Department of Public Health, the California Department of Public Health and the Department of Social Services have not been modified for preschool. Masks are still HIGHLY recommended statewide for the safety of the children and teachers in preschool. As always the safety of all the children, teachers and families is our top priority.)
All families & teachers self-check at home and are checked before entry for any signs of illness. Temperatures are checked. Anything >100° stays home. All illnesses stay home.
Any COVID-19 symptoms require 1+ negative COVID-19 tests and/or 5-10 day quarantine and no symptoms. And administration/director approval. Read More
If your child visits a doctor for any illness, please ask for a return authorization note. Halsey Schools reserves the right to exclude a child from school at any time for any reason, even if a doctor or other recommends otherwise
If we have 3 or more children come down with something (other than COVID-19) we provide more information on the illness.
Stay home with your child if you, your spouse or anyone else who is in your home regularly like a nanny, grandparent, sibling, cleaning person or your child tests positive for COVID-19. And notify us immediately.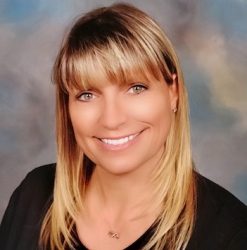 Latest posts by Jenni Rice - Owner & Director
(see all)