Weekly Themes & Stories
This month we'll be learning about Lady and the Tramp, 101 Dalmatians, The Aristocats, and Bolt. Our Hours will remain 8-5. Extra Curricular Activities: Dance & Gym, Karate, and Soccer are starting up again! Keep following our important illness & safety protocols at home and we'll do the same at school.
Events
Karate is back 5/3: We feel it is safe to begin adding Dance & Gym, Karate, and Soccer back to our preschool program for children 2+. All classes will take place outside. All equipment will be disinfected between groups and before coming into our yards. Each class (Pandas, Penguins, Dragonflies, Busy Bees) will have their own session. All Enrichment Instructors will wear masks and follow all the same screening procedures as our teachers. Click below for more information and to sign-up. Karate will Start 5/1. We plan add Dance & Gym and Soccer later.
Bring It: 5/3-6 Picture of you & Mommy and/or Grandma 5/28 stuffed dog
National Screen Free Week 5/3-5/7: Turn off all your screens for a week. Can you to do it? If you can't do it for a week. Try it for an hour or two a night. You'll be amazed what a difference it makes. There are lots of things to do that don't involve screens and encourage family time.
Modified Mommy's Craft Week 5/3-7: We will be providing you with a special Mommy & Me craft project for you to do at home.
Staff Development Training 5/4 & 5/5: Helping Children to Develop Early Literacy Skills with Dialogic Reading | Every month our teachers learn something new, take a look at something old from a new perspective, reinforce and reinvigorate previous education and training, or just have some hands-on fun through our regular training programs. | We have partnered with Quality Start Los Angeles (QSLA) again for 2021! This partnership allows us to provide regular free training to our teachers to make ourselves and our program even better! In addition to many training opportunity we will also have personal coaches to help us set goals for ourselves, the classrooms, the children and the school. Just one of the many ways we keep making Halsey Schools even better! | Learn more about our happy teachers here.
Mommy Facebook LIVE Celebration 5/7: We will be celebrating our Mom's virtually through Facebook. Please join us!! Penguins- 9:15 am | Pandas-9:30 am |Early Learners-9:45 am | Toddlers-10:00 am | Dragonflies-10:30 am | Busy Bees-10:45 am.
Wear it: 5/10 Polka dots 5/19 Cat ears
Teacher Appreciation Week 5/10-14: We all know how important praise and recognition is for our children. Sometimes we forget how important it is for our teachers too. Please let them know how much we all appreciate them. A little gesture can make a huge difference.
Modified Pet Share Week 5/17-21: Share your pets this week! All pets must be very friendly. Small animals in cages make the best visitors but dogs, cats & other are welcome too. Pets that live in cages or bowls like hamsters, fish and lizards are welcome to stay for the day. Other pets like dogs and cats may come for short outside visits, when you pick up or drop off, but can not be left at school. You can bring a picture of your pet to share instead.. Please arrange all pet visits with your child's teachers.
School Closed 5/31: Memorial Day. Have a great weekend! We'll be thinking about you.
Reminders
Wear Sunscreen Everyday: It's Sunscreen Time! If you've stopped applying daily sunscreen, it's time to get back into the swing of things. Children (10 months- 6yrs) should come to school wearing an SPF 30 or more on all exposed areas of the skin. If you would like us to re-apply a medication form must be completed. We also recommend wearing a hat. We will be having a lot of outdoor fun! (Always consult your child's physician.)
Temporary Hours remain: 8-5 with same drop off and pick up procedures.
Lunch Menu: Look for the lunch menu in sandbox post.
Self Screening at home: Keep up the good work! Parents and teachers have been doing an awesome job of self screening and staying home when any concerns arise. No runny noses. No illnesses. Only healthy teachers and children at school.
Arrival screening: Our arrival screening is going GREAT! Read How we are keeping parents, children and teachers safe for details on self screening and our daily entrance screening. Together we are keeping everyone safe.
Report and isolate: If you or anyone in your family has had any exposure to any person who has a suspected or confirmed case of COVID-19 report it to us immediately and self isolate. Thank you. Read More
Never send your child to school if you or anyone in your household is sick with anything and/or if you are waiting for COVID-19 test results for anyone in the household.
Masks for children 2+ years old: Thank you for helping your children learn how to put on and off, wear, and store their masks properly. We are so proud of all the children and the parents! What a team we are! (No children under 2 can wear a mask.) Read More.
Traveling? Please let up know your plans so we can provide guidance on what you will need to do for your child to return.
Illness Policy: We follow a strict written Illness Policy
All families & teachers self-check at home and are checked before entry for any signs of illness. Temperatures are checked. Anything >100° stays home. All illnesses stay home.
Any COVID-19 symptoms require 1+ negative COVID-19 tests and/or 10-14 day quarantine and no symptoms. And administration/director approval. Read More
If your child visits a doctor for any illness, please ask for a return authorization note. Halsey Schools reserves the right to exclude a child from school at any time for any reason, even if a doctor or other recommends otherwise
If we have 3 or more children come down with something (other than COVID-19) we provide more information on the illness.
Stay home with your child if you, your spouse or anyone else who is in your home regularly like a nanny, grandparent, sibling, cleaning person or your child tests positive for COVID-19. And notify us immediately.If there was possible exposure at school we will notify those possibly exposed directly.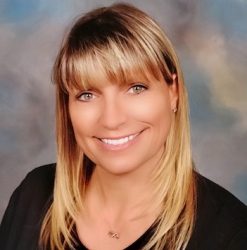 Latest posts by Jenni Rice - Owner & Director
(see all)