Weekly Themes & Stories for November
[quote author_name="Jenni Rice" author_description="Director & Owner" author_image="https://halseyschools.com/wordpress/wp-content/uploads/2013/11/Jenni-Rice-Owner-Director.jpg" size="small" style="solid"]
This month we will be learning about: Llamas, Sloths, Toco Toucans, & Ocelots. We'll read The Littlest Llama, Slowly, Slowly, Slowly, Animal World and Read and Discover Wild Cats. You can cuddle up and read these great books with your child at home too. [/quote]
Events
11/4 New hot lunch menu from TotPot: All Natural & Organic Hand- Crafted Locally Sourced Fresh & Healthy for Toddlers-Preschool. Sign up here.  (If you are already signed up for Mr. Jiffy, you're signed up for TotPots now instead.) Check out the Menu here.
[table style="solid"]
| 1 day/wk | 2 days/wk | 3 days/wk | 4 days/wk | 5 days/wk |
| --- | --- | --- | --- | --- |
| $30/month | $60/month | $85/month | $110/month | $135/month |
[/table]
11/5 Free Child ID Fingerprint Cards: Provided for free my New York Life – no obligation. Just fill out form available near sign/in out sheets. Sample.
Bring it: 11/7 Your favorite Llama book.| 11/25 A picture of your cat or a stuffed animal.
Parent's Night Out Saturday 11/9: 4-7 Bring your children (infants-preschool) in for some fun while you go out on a date!  Pizza dinner for TinyTots/Toddlers/Preschool. $40 for 1 child. $50 total for 2 siblings paid directly to the teachers. Limited Space. Sign up here. 
School Closed 11/11: Veteran's Day
Staff Development Training 11/19 & 11/20: 10 Best Preschool Transition Songs. |Every month our teachers learn something new, takes a look at something old from a new perspective, reinforces and reinvigorates previous education and training, or just have some hands-on fun through our regular training programs. |  Learn more about our happy teachers here.
Field Trip 11/21: 9:30 – 12:00 Maddie's Playhouse | Lunch @ School| 19559 Parthenia St, Northridge, CA 91324, USA | (818) 772-7529 | Please sign up here. |Field trips are available for Busy Bees, Dragonflies, Penguins & Panda 3+ years old and potty trained.  All children must wear their Halsey Shirt on all field trips. If your child is in the Panda class, he/she may attend the trip if you or your spouse or other loved one join us. Parents are always welcome to attend and space is limited. So let us know if you want to join us right away. Sign up Field Trips here.
Thanksgiving Social 11/22: Come and join us for a special sing a long and some tasty treats!!! Infants-9:30, Tiny Tots- 10:00, Toddlers- 10:30, Preschool- 11:00.
Assessments 11/25:  You will receive your child's written assessment. This month your child's teachers have been  carefully observing your child to assess for age appropriate developmental milestones. Children develop at their own pace so the criteria we follow offers a broad age range for each milestone. Some children might reach a designated milestone at 7 months old. But others might reach it at 4 months or 10 months.  If you would like to schedule a conference with your child's teachers, signup here:
School Closed 11/28-29: Thanksgiving – Have a wonderful and thankful weekend full of family, friends and food.
Reminders
Holiday Plans:  At Halsey Schools we understand the importance of family togetherness. As a result, whenever possible we like to give our teachers special time to spend with their families. The Holiday Season provides an excellent opportunity to do so.  In order to plan for this, we need your help. Please complete What are your Holiday Plans?
Hot Beverages:  As the days and mornings become cooler, please remember to keep coffee and other hot beverages off campus.  For safety reasons, there is no drinking of hot beverages allowed on any of Halsey Schools grounds, or on any Halsey Schools trips or other events. If you would like to drink hot beverages, please do so off campus or before coming in.
Sheets & Blankets: All children must have a sheet & blanket for nap time everyday.  Please make sure to send a sheet & blanket at the start of the week.  Please have your child's name printed on them.  Thank you!
Cold & Flu Season:  We are now officially in the Cold & Flu Season.  At Halsey Schools, we follow our written Illness Policy and written illness prevention procedures.  We make every effort to assure your child contracts as few illnesses as possible.  However, most children and adults will contract at least one illness between now and April.  Remember to wash your child's hands everyday before leaving school or any other social event.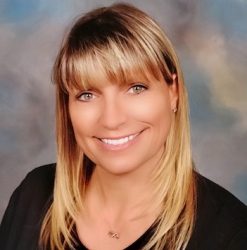 Latest posts by Jenni Rice - Owner & Director
(see all)