Themes & Books
This month we will learn about Elephants, Hippopotami, Zebras, & Seals. We will read The Saggy Baggy Elephant, Hattie Hippo, How the Zebra Got Its Stripes, & One Seal. | Do you have a book nook at home? Literacy skills like talking, signing, reading, writing and playing can all be nurtured at home with a book nook. We have book nooks in every classroom at Halsey Schools. Click here to learn how to make a book nook at home to provide your child with a quiet, comfortable space that nurtures learning.
Events
Shhhhh. Surprise Readers: We have been having a lot of fun with our parents visiting as surprise readers. If you would like to participate, please arrange with your child's teachers or Sign up here. Proof of COVID vaccination and all boosters required.
Bring it: Bring a toy or book about elephants All week 11/7-10
Julie Lilly Photography Pictures: 11/9 Infants and Toddlers | 11/10 Preschoolers. You will receive a signup form to request your preferred package, however if you don't turn one in, your child's picture will still be taken and you can choose a package later. Sample Envelope and prices.
School Closed 11/11: Veterans Day. Be safe and have some fun and let our veterans know they are appreciated.
Wear it: Silly Shoes 11/14 | Wear stripes 11/21
Staff Development Training 11/15 & 11/16: How to Encourage Learning Through Play. | Every month our teachers learn something new, takes a look at something old from a new perspective, reinforces and reinvigorates previous education and training, or just have some hands-on fun through our regular training programs. | Learn more about our happy teachers here.
Friendsgiving Celebration 11/17: A very special children only Thanksgiving celebration with our friends. Teachers will send home a notice to let you know what to bring.
Assessments 11/21: You will receive your child's written assessment. This month your child's teachers have been carefully observing your child to assess for age appropriate developmental milestones. Children develop at their own pace so the criteria we follow offers a broad age range for each milestone. Some children might reach a designated milestone at 7 months old. But others might reach it at 4 months or 10 months.
School Closed 11/24-25 Thanksgiving: Have a safe and happy Thanksgiving with your friends and family.
Parent Teacher In Person Conferences 11/28-12/2: If you would like to schedule an in person conference with your child's teachers on campus, sign up below.
Parent Outdoor Cookie Party 11/29 4-5: Mommies and Daddies come join us outside on your child's campus for a special treat & socialization. Get to know other parents and children and have some fun! We need some parent provided cookies. Bake 'em or buy 'em! It doesn't matter. The party starts a-rock'n at 4:00 for Infants, Tiny Tots, Toddlers, & Preschoolers. No mask or proof of immunization and boosters needed. Please sign up with your child's teachers to bring something or just bring what you want to share.
Reminders
Children MUST be sign in/out. Please sign in/out every day: Sign in using this link or let us know to do it for you. Sign in/out on phone. Or at HalseySchools.com click on the down arrow on the upper right and find Sign in/out. See instructions here.
COVID Vaccine: Lots of children have already received the COVID vaccine. If your child hasn't received it yet, it's time to get it ASAP. They are available to everyone 6 months of age and older. Parents have reported no major issues with getting the vaccine. Please protect your child and get the vaccine ASAP before all the holiday gatherings are in full swing. 🙂
Easing of some COVID restrictions 🙂
Mask update: It's time to put the masks away for now. (If local transmissions change or if we have a case on campus, have masks ready just in case.) | Parents: No masks required indoors but they can still be worn inside. Proof of COVID vaccine and all boosters still required to come inside. | Children: No masks required regardless of vaccination status. Please let us know if you still want your child to wear a mask indoors. | Teachers: No masks required but they are still optional and some teachers may still wear them at their own discretion. CDC info
Parents Welcome Inside: We are slowly easing some of our restrictions. Parents are welcome to visit the classes inside a family at a time. Parents must provide proof of COVID vaccines & boosters. Parents must wash their hands and their children's hands when they arrive and before leaving for at least 20 seconds. Hand sanitizers or wipes can not be used. All visitors must be healthy & have no symptoms.
Parent Volunteers: We love visits and help from parents like YOU! If you would like to volunteer for anything, please let any teacher know or Sign up here. All volunteers are required to prove COVID vaccination and boosters. 🙂
Parents are Welcome Outside: No proof of immunization and boosters needed. Parents are welcome to hang out outdoors on the playgrounds with their child. Come have some fun!
Illness Policy: We follow a strict written Illness Policy
COVID Prevention: Keep following our important illness & safety protocols at home and we'll do the same at school.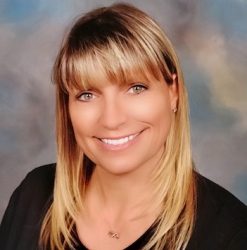 Latest posts by Jenni Rice - Owner & Director
(see all)