Weekly Themes & Stories for October
[quote author_name="Jenni Rice" author_description="Director & Owner" author_image="https://halseyschools.com/wordpress/wp-content/uploads/2013/11/Jenni-Rice-Owner-Director.jpg" size="small" style="solid"]
This month we will be learning about: Mountain Lions, Bald Eagles, Wolves, Polar Bears and Anaconda. We will read: It's Nice to be a Mountain Lion, My Little Book of Bald Eagles, The Three Little Pigs, National Geographic Kids Polar Bears, and National Geographic Kids Snakes. Cuddle up and read these or any books at home. It's fun!  [/quote]
Events
Picture Day 9/30 & 10/1: 9/30 Infants & Toddlers 10/1 Preschool by Julie Lilly Photography. Please complete Order Form and include payment by picture day. You'll get the pictures within 4 weeks. Return for refund if any problems. | If an order form was not completed one pose will be taken and proofs provided within 4 weeks to place any orders. | You can either have your child wear his/her photo outfit or send an outfit to change into. | If your child can't make the designated day, let us know and we'll make sure the pictures are taken on the other day. | Please see Order Form in your child's folder.
Surprise Parent Readers Anytime:  How would you like to be a surprise reader for our storytimes? You can schedule at your usual drop off time, pickup time or anytime in between. Don't forget it's a surprise, so don't let the children in on the secret. You can come in dressed up as a character from the story or just come as you are. It's up to you. The sky's the limit.  Signup here.
Wear it : 10/2  a shirt with a lion | 10/22  White | 10/28-30 a halloween shirt or Orange. | 10/31 Wear your Halloween Costume!
Parent Social at the Preschool 10/03: 5:00-6:00 Pizza, Discovery & Play centers… Meet other parents and children and have some fun! Infants, Toddlers, Preschool. Everyone's invited. Please RSVP here
Bring it : 10/8 Something that starts with an E. 10/14 A picture of your dog or a dog stuffed animal
California ShakeOut 10/17: Annual World Wide Earthquake drill where millions of people including all of us at Halsey Schools practice & prepare for an earthquake. The imaginary earthquake hits at 10:17. Learn about our emergency plan here. Learn more about the ShakeOut here.
Staff Development Training 10/22 – 10/23: Why it's not O.K. to say 'You're okay.' |  Every month our staff learns something new, takes a look at something old from a new perspective, reinforces and reinvigorates previous education and training, or just have some hands on fun through our regular training programs. Learn more about our happy teachers here.
On Campus Field Trip 10/24: 10:00-11:00 our annual on campus "Pumpkin Patch" for the Pandas (under 3), Toddlers, Tiny Tots & Infants. A great time for all when we bring pumpkins and fun for a pretend field trip.
Field Trip 10/24 9:30 – 12:00 Tapia Brothers Farm: Lunch at School. | 5251 Hayvenhurst Ave, Encino, CA 91436. | Field trips are available for Busy Bees, Dragonflies, Penguins 3+ years old and potty trained.  All children must wear their Halsey Shirt on all field trips. If your child is in the Panda class, he/she may attend the trip if you or your spouse or other loved one join us. Parents are always welcome to attend and space is limited. So let us know if you want to join us right away. Sign up Field Trips here.
Halloween Party & Parade 10/31:  Join us for our annual parade and a party.  Please see sign-up sheet in your child's classroom for what you can bring. Candy, treats, sugar… will be limited. All children should wear or bring a costume to school and should have a change of clothes too.  At 10:00, all children will parade around the neighborhood. Everyone will be dressed up, even our teachers.
Share Day Every Friday: Children are encouraged to bring in a ball, a toy, a picture, or something else safe and interesting to share. Electronics with screens like ipads, ipods, phones, tablets, tvs etc should stay at home. Any weapons like toy swords, lightsabers, guns, water guns, anything that shoots or bangs needs to stay home too. | Remember anything can get lost or broken. Label everything and if anyone is worried about something breaking or disappearing, please leave it at home. | Books can be brought in to share any day of the week.
Reminders
Hot Lunches: Sign up for some yummy nutritious lunches here.
Are your child's vaccines up to date? Please make sure to give us a copy of your child's immunization record every time immunizations are updated. All children at Halsey Schools are required to follow the CDC's Immunization Schedule and provide proof with each update.
Illness Policy:  We follow this written Illness Policy and make every effort to assure your child contracts as few illnesses as possible.  However, most children and adults will contract at least one illness between now and April. Remember to wash your child's hands everyday before leaving school or any other social event.
Parent Handbook: Your parent handbook is here.
Parent Visitors: As always you are welcome to visit at anytime and volunteer to tell us what you are now that you've grown up. We can work around your schedule to make it happen.  Sign-up here or just let us know.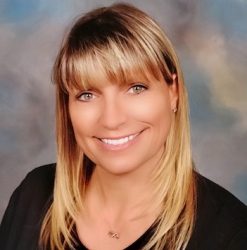 Latest posts by Jenni Rice - Owner & Director
(see all)