Themes & Books
This month we will learn about Crocodiles, Polar Bears, Koala Bears and Panda Bears. We will read The Selfish Crocodile, Animal Strike at the Zoo. It's True!, Miss Moo Goes to the Zoo, & Please, Mr. Panda. Please read at home every night too! Click here to learn how to make it fun!
Events
Wear it: A green shirt 10/6 | Favorite zoo animal color 10/12 | Wear Halloween t-shirts / Spooky Colors all week 10/24-10/28
Bring it: Story with Koala Bears 10/17
Staff Development Training 10/18 & 19: Arts Vs Crafts. What's the difference and how to make sure children are getting enough of both. | Every month our teachers learn something new, take a look at something old from a new perspective, that reinforces and reinvigorates previous education and training, or just have some hands-on fun through our regular training programs. | Learn more about our happy teachers here.
California ShakeOut 10/20: Annual World Wide Earthquake drill where millions of people including all of us at Halsey Schools practice & prepare for an earthquake. The imaginary earthquake hits at 10:20. Learn about our emergency plan here. Learn more about the ShakeOut here.
On Campus Outdoor Field Trip 10/27: 10:00-11:00 our annual on campus "Pumpkin Patch" for all classes: Busy Bees, Dragonflies, Penguins, Pandas , Toddlers, Tiny Tots & Early Learners. A great time for all when we bring pumpkins and fun on campus for a pretend field trip. Parents are welcome to come! No masks are required outside. (No proof of COVID vaccine required outdoors.)
Halloween Party 10/31: Your child's teachers will be sending home a note letting you know what healthy food item or non food item your child has chosen for you to bring to our Halloween party. Candy, treats, sugar… will be limited. All children should wear or bring a costume to school and should have a change of clothes too. This will be a fun filled day with fun Halloween activities!! Parents are welcome to join us for an outdoor parade @ 10:00. No masks are required outside. (No proof of COVID vaccine required outdoors.)
Reminders
Easing of some COVID restrictions 🙂
Parents Welcome Inside: We are slowly easing some of our restrictions. Parents are welcome to visit the classes inside a family at a time. Parents must provide proof of COVID vaccines & boosters. Parents must wear a mask. Parents must wash their hands and their children's hands when they arrive and before leaving for at least 20 seconds. Hand sanitizers or wipes can not be used. All visitors must be healthy & have no symptoms at all.
Parent Volunteers: We love visits and help from parents like YOU! If you would like to volunteer for anything, please let any teacher know or Sign up here. All volunteers are required to prove COVID vaccination and boosters and wear a mask indoors. 🙂
Parents are Welcome Outside: No mask or proof of immunization and boosters needed. Parents are welcome to hang out outdoors on the playgrounds with their child. Come have some fun!
Children MUST be sign in/out. Please sign in/out every day: Sign in using this link or let us know to do it for you. Sign in/out on phone. Or at HalseySchools.com click on the down arrow on the upper right and find Sign in/out. See instructions here.
Wear Sunscreen Everyday: Just because it is Fall doesn't mean the sunscreen stops. Children (10 months- 6yrs) should come to school wearing an SPF 30 or more on all exposed areas of the skin. If you would like us to re-apply a medication form must be completed. We also recommend wearing a hat. We will be having a lot of outdoor fun! (Always consult your child's physician.)
Illness Policy: We follow a strict written Illness Policy
Totpot Hot Lunch Updated Rates: All Natural & Organic Hand-Crafted Locally Sourced Fresh & Healthy Lunches for Toddlers-Preschool. The children LOVE these lunches and they are good for them too! Monthly menus are sent in the parent portal in sandbox. Sign up here
| | | | | |
| --- | --- | --- | --- | --- |
| 1 day/wk | 2 days/wk | 3 days/wk | 4 days/wk | 5 days/wk |
| $48/month | $98/month | $140/month | $179/month | $199/month |
Would you like to visit your child's classroom or chat with the teachers? Please email [email protected] to set something up. You can visit virtually through Google Meet, talk on the phone or visit the class in person. In person visits require proof of COVID vaccination, booster and a mask.
COVID Prevention: For the safety of the children, we are still wearing masks inside. Keep following our important illness & safety protocols at home and we'll do the same at school.
We don't expect any major changes until we receive the all clear from the Department of Social Services and The County Of Los Angeles Department Of Public Health Order Of The Health Officer. | How we are keeping children, parents and teachers safe click here.
Indoor Mask Requirement Unchanged: All children 24 months and older are required to have a box of disposable masks in their cubby that have multiple layers of non-woven material with a nose wire. For example this 3 ply surgical mask with a wire nose from Amazon.
All families & teachers self-check at home and are checked before entry for any signs of illness. Temperatures are checked. Anything >100° stays home. All illnesses stay home.
Any COVID-19 symptoms require 1+ negative COVID-19 tests and/or 5-10 day quarantine and no symptoms. And administration/director approval. Read More
If your child visits a doctor for any illness, please ask for a return authorization note. Halsey Schools reserves the right to exclude a child from school at any time for any reason, even if a doctor or other recommends otherwise
If we have 3 or more children come down with something (other than COVID-19) we provide more information on the illness.
Stay home with your child if you, your spouse or anyone else who is in your home regularly like a nanny, grandparent, sibling, cleaning person or your child tests positive for COVID-19. And notify us immediately.
Why are children 2+ still required to wear masks indoors? The LA County Department of Public Health and the Department Of Social Services updated the Guidance For Early Childhood Education Providers Requirements and Best Practices on 8/26/22 for the fall. They continue to highly/strongly recommend everyone in a preschool environment over two mask indoors regardless of vaccination status.
From LACDPH – Children: It is strongly recommended that all children ages 24 months and older wear a highly protective mask (which means it fits well and provides good filtration) when they are indoors at the facility. A good fit means the mask covers the mouth and nose and fits snugly against the sides of the face and nose. Good filtration means the mask has multiple layers, including a layer or filter made of synthetic non-woven material. While all masks provide some level of protection, well-fitting respirators (e.g., KN95/KF94, and N95 for older children) and double masking (wearing a snug cloth mask over medical mask) provide the best protection. Read more here.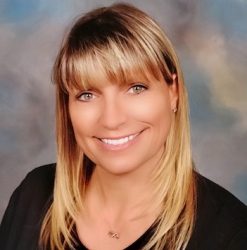 Latest posts by Jenni Rice - Owner & Director
(see all)