I feel like this career chose me! I love working with children, being creative and having fun. I take pride in setting a good example for others, promoting a healthy lifestyle and I work hard to bring a level of professionalism to child development. I care about children and want to help guide them, teach them and nurture them in the most loving way possible.
Early Childhood Development Credential, CPR & First Aid Certified
I have my Early Childhood Development Credential, my AS in Early Childhood Education. I am CPR & First Aid Certified. I've been teaching since 2012.
A little bit about me…
I'm originally from Pismo Beach (San Luis Obispo county) – Right in the middle of San Francisco and Los Angeles on the Central Coast of California! Growing up, I was heavily involved in the performing arts and wanted to be a star when I was older! I was in theatre and choir all through high school school and performed frequently in professional local theatre productions. I worked part-time throughout high school at our local Ice Cream Parlour in town, scooping ice cream all summer long and making sweet treats for families and patrons of all ages. It was a great first working experience, and I learned that no matter what the show must go on – even off the stage!
Fun Fact! My family lived abroad for 6 years, as my dad was transferred to run a large company overseas. I attended a Montessori Preschool in Kuala Lumpur, Malaysia and remember only the best of times and adventures – even amidst the humidity and culture shock. Everywhere my blonde brother and I went, we got attention from the locals! My first couple years of elementary school were spent at an International School in Hong Kong, China. Hong Kong is one of the most wonderful and beautiful cities in the world. I'm so lucky to have called it home for three years! I can't wait for the opportunity to go back and visit again!
When I'm not teaching…
In my free time, I enjoy going to the movies, shopping, binge-watching my favorite TV shows and eating yummy food with my family and friends. I love taking the weekends to visit my family and spend time with our newest family addition – our poodle puppy, Jasper! I like to play piano and write/sing music, and when I'm feeling creative I like to collage and enjoy acrylic pour painting! My goal is to travel more and revisit some of my favorite places around the world and see some new destinations, too! : )
Halsey Stats…
Ms. CoryAnne works primarily in our Infant & Toddler Center. However, just like all our teachers, you'll find her in all our classrooms. Her anniversary date is June 10, 2019.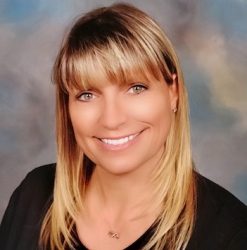 Latest posts by Jenni Rice - Owner & Director
(see all)