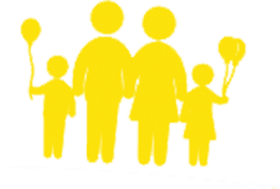 Families Like Yours LOVE Us! You Will Too!
I love Halsey and so does my son! Every teacher he has been with (infant center, tiny tots, toddlers, and pandas) has been amazing and helped him become the amazing kid he is today. Because of Halsey he has learned his numbers, letters, manners, and empathy. I would highly recommend this school to everyone with kids and he will definitely be going here until Kindergarten.
Albertine, Happy Mommy
The staff has been wonderful during the pandemic and the health of the staff and kids comes first. The school is consistently kept clean and sanitized. What I love the most is that they celebrate all major holidays with the kids and make it memorable for them where the kids can be kids given the current outside environment and that is important to see as a parent.
Mimi Tejada, Happy Mommy
We enrolled both of our children at Halsey (2 year old and a 5 month old) and have been extremely happy with the outcome! Our two year old is actively excited to go (did not see that coming), and his language has exploded. My wife was super nervous about bringing our 5 month old to daycare full-time but the staff made the transition seamless. They are great communicators, and made us feel extremely comfortable.
Mike, Happy Yelp Daddy
The Halsey teachers and staff have done a wonderful job with reopening the school with the new safety protocols in place. It gives us a peace of mind that our daughter is in great hands at school during these unprecedented times. Thank you Halsey staff.
Mimi, Happy Mommy
The holy grail of cleanliness. Even my mother-in-law was impressed which is the unicorn of approvals in a marriage. LOVE all the teachers, every single one is a joy. Love the program.
Michelle, Happy Mommy