[quote author_name="Jenni Rice" author_description="Director & Owner" author_image="https://halseyschools.com/wordpress/wp-content/uploads/2013/11/Jenni-Rice-Owner-Director.jpg" size="small" style="solid"]
We've always said children under 1 shouldn't drink any juice. And now American Academy of Pediatrics agrees! 🙂 [/quote]
How much 100% fruit juice is too much?
Infants under 1 shouldn't drink any juice.
Toddlers 1-3 years old shouldn't consume more than 4 ounces a day.
Preschoolers 4-6 years old shouldn't consume more than 4-6 ounces a day.
Youths, ages 7–18 years old, shouldn't consume more than 8 ounces a day.
Are Hi-C and Capri Sun, smoothies, fruit drinks etc. really juice?
If the labeling doesn't say 100% fruit juice the beverage is a sweetened drink similar to a soda. All sweetened and naturally sugary beverages like 100% fruit juice should be eliminated or at least consumed in limited amounts.
Sugar-sweetened beverages, if not limited, are often consumed instead of nutritious milk or fluoridated  water and lead to inappropriate weight gain, obesity and cavities.
Drink tap water & milk instead
Some alternatives to fruit juice are:
Water right from the tap. It's treated with fluoride that children often don't get enough of anymore when bottled water is used instead.
Low-fat or skim milk. (Children under 2 years old should drink whole milk)
Low-fat soy milk
Almond milk
Sparkling water plain or enhanced with fruit essence. Or add a splash of 100% fruit juice for some flavor.
Eat whole fruits & vegetables instead
Whole foods including fruits & vegetables are best for children and adults. They have no added sugar, lots of fiber and vitamins and often help prevent cavities & tooth decay.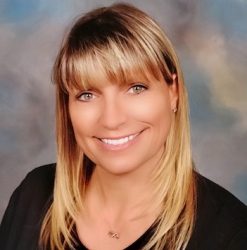 Latest posts by Jenni Rice - Owner & Director
(see all)