Even when I'm not working I'm still surrounded by children. They bring so much joy and happiness to me. Their sense of wonder and excitement always makes me smile.
Early Childhood Development Credential, CPR & First Aid Certified
I've been taking care of children all my life. I have my Early Childhood Development Director Credential from UCLA and I'm CPR & First Aid Certified.
A little bit about me…
I was born in Boston and adopted by my parents when I was 2 months old. We moved to Woodland Hills when I was 3 years old. I have two Korean sisters who my parents also adopted. My sister Becky and her family moved to Japan in 2004 but visit us all summer long. My sister Lori is still close by.
My husband Bobby & I were high school sweethearts at El Camino Real High School in Woodland Hills and we had a beautiful wedding at St. Luke's right across the street from Halsey. I've been part of the Rice/Halsey family since I was a teenager.
Bobby and I have two adult boys Christopher (23) & Kevin (21) who love to help us out at the school. They both went to Halsey for 5 years. So did all 12 of my nieces and nephews!
When I'm not teaching…
I love to be with my family. It doesn't matter what we are doing. We love to go on field trips; Sky High, horseback riding, kayaking, Magic Mountain, Disneyland… It's always fun!
I enjoy exercising at the gym, hiking, backpacking, cruising, biking at the beach, walking and just being outside.
I love being a mother and support Christopher & Kevin in whatever they are doing.
Halsey Stats…
Ms. Jenni owns & operates Halsey Schools with her husband Robert (Bobby) Rice. You'll find her on campus every day.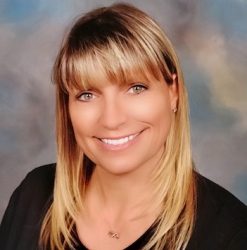 Latest posts by Jenni Rice - Owner & Director
(see all)