If you've ever been to Halsey Schools during nap time you know how easy we make it look. The Secret?  A successful nap and bedtime is easy when you follow a consistent schedule and routine. Here's how to do it in your home:
Infants
Follow a calming routine at the same time every day
Have a bottle (But don't sleep with it)
Warm Bath
Clean diaper
Darken room
Swaddle or cuddle up in a soft blanket
Pacifier (If your child uses one)
Rock baby in arms
Play or sing lullabies
Lightly rub baby's cheeks & bridge of nose
Gently place baby in crib on his/her back (Infants should never sleep on tummy or share a bed with an adult)
Toddlers & Preschoolers
Follow a calming routine at the same time every day about 45 minutes before your child should be sleeping
Eat lunch or dinner
Take a Warm Bath
Go potty
Darken room
Get comfortable (take off shoes, wear pj's… )
Cuddle up with favorite blanket and/or stuffed toy
Play a quite game
Read books
Play or sing lullabies
Rub child's back
Leave room with a final 'sleep tight'
Providing a calming routine like these will create loving bonds that will help everyone sleep better and put a smile on everyone's face at wake up time.  Make up your own routine and see for yourself.
Sleep tight.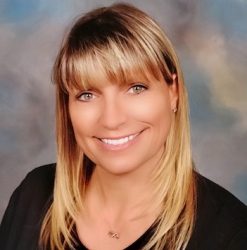 Latest posts by Jenni Rice - Owner & Director
(see all)