Any change for a family requires some period of adjustment. Every child and every parent is different and will react in different ways. When starting school or daycare some parents and children are good to go on day one. Others take more time. Sometimes families do great on day 1 & 2 but then have a little trouble on day 3. All and all it usually takes about 2-3 weeks for everyone to  get fully into the new routine. And we'll help you through it every step of the way. 🙂
At Halsey Schools, we understand the feelings children and parents go through during separation. We are here to help you. Please understand that your feelings are normal and expected. We will do whatever we can to help you and your child feel happy and content. Your child will be loved, nurtured and reassured.
Open channels of communication are kept between the teachers and our families. If you have any questions about how your child did at school, please ask the teachers. They will let you know exactly how the day went. Written daily reports are also provided.
How can we make the transition as smooth as possible?
When you start a new job or move into a new home, you may feel a little uneasy with the new staff, the new location, the new way of doing things, new neighbors, etc. You may miss your old co-workers or your old neighbors. You'll have to get used to doing things a little differently, meeting new people, etc. It may take you a few weeks before you feel at home.
When your child starts a new school, he goes through the same emotions. It may take him or her two to three weeks or more before fully adjusting to the change. So keep in mind how you felt in your new home or new job.
Read books together
Before the first day of school we recommend reading books together about going to school, mommies and daddies going to work etc. Emphasize with your child (as much as he or she can comprehend) the fun she/he will be having with all the new friends and activities. And that you (or someone else) will pick him up at the end of the day. (Specify a specific time i.e. after nap, after snack etc.)
Visit the classroom together 2-3 times
We suggest you make an appointment to visit the classroom with your child before his/her first day of school two or three times for approximately an hour. Introduce the teachers, some of the children, the games and toys. Let him participate in some of the class activities.
However, emphasize when he starts school he will be with his new friends. Let him know his teachers will be there to give him a hug whenever he needs it.
How should I prepare the night before for the first day of school?
If your child is old enough, help select and lay out his or her clothes for the next day. Put together the change of clothes, the blanket/sheets for nap time, a special napping friend or comfort item, and perhaps a book. (Books are always welcome to be shared at school. However, please only send toys etc. on share day.)
You should talk about the fun he or she will have at school. Recall some of the things or activities your child particularly enjoyed during his/her visit. Make sure he or she gets a good night's rest.
[toggle title="WHAT DO I NEED TO BRING TO SCHOOL?
" state="off" style="solid" icon="question-sign"]
Every child has his/her own cubbie and infants & toddler have their own refrigerator space. Please bring:
• Change of clothes & shoes
• Small sheet & blanket in small bag
• No pillows please
• Sack lunch/sign-up for hot lunch
• Back pack and/or carrying bag
• Please do not send car seats
• Summer add towel, water shoes, hat, sunglasses sun block & swim suit/diaper
(Additions-Infants & Toddlers)
• Diapers & wipes, 2+ changes of clothes
• Sippy cups, bottles, food etc
[/toggle]
[toggle title="WHAT SHOULD MY CHILD WEAR?" state="off" style="solid" icon="question-sign"]
We recommend the children be dressed in comfortable, washable clothing and Velcro
strapped shoes that adapt well to food spills, paint, sand, water play and more. Your child's clothes will get 'dirty.' Extra labeled clothes are a must. Please do not send children to school in:
• Flip Flops (sandals o.k. if strapped.)
• One Piece Outfits (infants o.k.)
• Formal Outfits, Pajamas, Costumes
• High heel shoes, Dress up outfits
• Stirrup Pants, Bathing suits
• Jewelry (It may be lost)
• No overalls during potty training
• No overnight diapers
[/toggle]
What should I do on The First Day of School?
On the first day of school we recommend you bring your child to his teachers. Let him know you will be back after lunch, later etc. Spend no more than 10-15 minutes getting him/her acquainted with the classroom and teachers. Give him a big hug and a kiss, tell him you love him and be on your way. Never slip out when your child isn't looking.  Children need to know when you're going and be able to say goodbye.
It is very likely (almost guaranteed) that your child will cry or fuss when you are leaving. To make the transition as smooth as possible, it is best for your child, if you resist the impulse to return for another good bye. Most of the time, by the time you are out the door, your child will be happy, playing and learning.
If you stay with your child, we have found the transition will be more difficult. However, we know the urge to stay can be overwhelming. We recommend, if you need to, you can wait just outside the classroom. The administration will periodically check on your child and let you know how he or she is doing. Remember, you can also call the school at any time and speak directly to your child's teachers.
At the end of the day when you arrive to pickup your child, we recommend you spend as much time at school as you would like. Take a look at the Activity boards, Parent information centers, the Family Learning Center etc. Take some time to talk to your child's teacher about the day or ask any questions you may have. You may even want to read a story to the class. It's all up to you.
What should I do to continue the transition over the next several weeks?
Keep a consistent schedule. This is arguably the most important tip. Always drop off at the same time and always pickup at the same time. Children love Routines .
You should also establish a bedtime routine and a morning routine. For example: play out side, take a bath, eat dinner, read some stories, go to bed. In the morning: wake up, eat breakfast, brush teeth and get dressed, read a story about school, go to school.
Finally, don't take off early for a weekend or plan a vacation until your family has completed the transition.
Every child is unique. Some children will adjust immediately. For others, it may take three weeks or more. But given time, your child will soon be looking forward to going to school. In-fact, he soon will not want to leave at pickup time.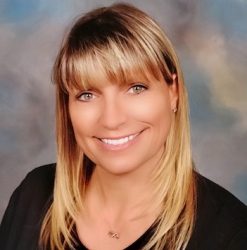 Latest posts by Jenni Rice - Owner & Director
(see all)