Directions for making GOOP & Oobleck
You Will Need:
1 Bowl
1 Spoon
Food coloring of any color
1 cup of Cornstarch
1/3 cup of Water
1 cup measuring cup
1/3 cup measuring cup
1 zip lock bag
Directions:
Measure 1 cup of Corn Starch loosely (don't pack down) and pour it into your bowl
Measure 1/3 cup of water, add the food coloring to the water
Pour colored water  into the same bowl as the Corn Starch
Now take your spoon and start to mix the corn starch, water and food coloring

The corn starch will make the consistency of your creation hard to mix but if you keep scraping the bottom of the bowl and stirring, until you can no longer see the color white of the starch then you are making progress.

Play with it!
Store it. To keep your goop in perfect condition store it in a zip lock bag or airtight container in the refrigerator.
When your done with it, pour it in the trash (never down a drain). It will dry and solidify back into cornstarch powder.
Why make Goop? What do children learn when making and playing with Goop?
Reading Skills
following directions
reading fractions
Verbal Skills / Vocabulary
Math & Science Skills
measuring
comparing
mixing – chemical reactions
state of matter

Dry to a liquid
Liquid to dry
Sensory Skills
Different  Textures
Colors
Hands-on activities like science & cooking projects are a fun way for children to learn many different concepts. Doing them at home is a great way for families to bond. Have fun!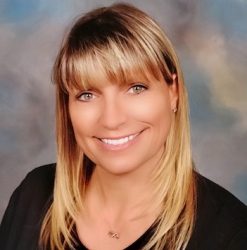 Latest posts by Jenni Rice - Owner & Director
(see all)