How to Marble Paint
You'll Need:
Paper
Washable Paint
Marbles
Scissors
Imagination & Creativity 🙂
Make your marble painting
Cut out optional shapes or use the paper as is
Place the piece of paper in a 9 x 13 cake pan
Place lots 3 or 4 different color blobs of paint on the paper
Place a marble in each color
Shake the pan so the marbles roll all over the paper
Shake the pan in different directions to see if you can create different shapes
Marvel at the amazing picture you have created
Talk about your marble painting
Does it look like anything to you?
What colors do you see?
Did any colors mix and make new colors?
How many lines did you make?
Do you see all the different directions the marble rolled across the paper?
Things to do with your marble painting after it has dried
Hang it on the refrigerator!
Frame it!
Make a card with it! Use a folded piece of sturdy paper and paste the picture on the front or use the folder paper and start a new marble piece card.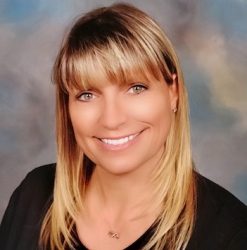 Latest posts by Jenni Rice - Owner & Director
(see all)