I LOVE providing children with simple hands on activities to help them learn, grow and have fun! Children teach us how to enjoy life with enthusiasm.
Teacher Assistant
I am completing my Early Childhood Development Credential. I started working with children in 1990.
A little bit about me…
I was born in New Jersey and raised in Simi Valley with my 3 siblings. My real happy place and time was having my daughter 27 years ago. I chose to be a stay at home mom and a class mom at her preschool and elementary school. I later went on to work for AT&T and retired after 35 years. Now I'm back full circle at my true happy place with smiling, laughing and learning children.
When I'm not teaching…
In my free time I enjoy walking and jogging, dog walking, art shows, live music entertainment and socializing with my neighbors.
Halsey Stats…
Ms. Cindy teaches primarily in our Preschool. However, just like all our teachers, you'll find her assisting in all our classrooms. Her anniversary date is April 11, 2022.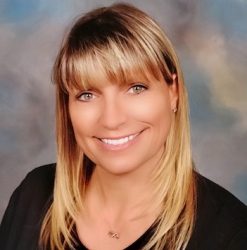 Latest posts by Jenni Rice - Owner & Director
(see all)