Infants, toddlers and preschooler LOVE playing with boxes. Sometimes they would rather play with the box a toy came in then the box itself. Playing with boxes encourages imagination, verbal skills, motor skills and more. It's fun and educational to play with boxes. Here's how to do it at home!
You'll need:
You guessed it! Boxes!!!!! Cereal, Costco, Amazon boxes or any boxes will do. Just make sure there are no staples or anything else dangerous in them like plastic bags, etc.
Ideas for playing with boxes
Create a ball catcher- toss the ball into the box
Create a box race car
Create a Mailbox & play post office
Create a Television & your child is the show
Leave some cereal in a cereal box and tape it up. Its makes a fun sound! It's a shaker!
Just give your child a box or two and see what happens.
We play with boxes at school often!
Our infants love sitting the boxes and going for a carpet ride! Our Toddler love to smash them! Our Preschoolers like to make forts, houses and castles!
Give it a try at home and have some fun!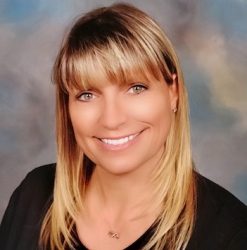 Latest posts by Jenni Rice - Owner & Director
(see all)