When you make reading with your children fun, they LOVE it! Children who are read to regularly in a fun interactive way are more likely to be strong enthusiastic readers! Here's how to add your personal flair and personality to the daily stories you read with your children and have FUN!
Make reading fun & interactive
Use small and over the top gestures, facial and vocal expressions.
Change your voice for each character.
Act out the story: walk, dance, sing, cry, laugh…
Try using puppets of any kind. Grab a sock and turn it into a puppet. Shadow puppets. A popsicle stick. An action figure. Whatever you've got! Any relevant prop will do.
As you read encourage your child to retell the story as you look at the book together.
Talk about and predict what will happen next.
When you have fun being silly, your child has fun too! Reading together every single day is a great way to have special bonding time with your child and get them excited about reading. At Halsey Schools we read together often and we all have fun doing it.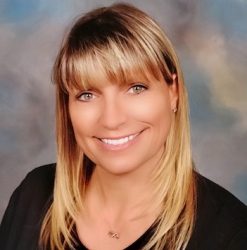 Latest posts by Jenni Rice - Owner & Director
(see all)