Here's a fun project you can do at home to reinforce and duplicate what we're learning at school. Remember children learn best by doing. So have them roll up their sleeves and get ready for some hands on fun! Activities should be age appropriately adjusted so that all ages infants to preschoolers can participate.
What you will need:
Fruits & Veggies

1 Orange, lemon or lime or all three!
1 Apple
1 Onion
1 Pepper
Celery stock
Any other fruits and veggies you'd like

Paints
Plates
Paper
Start the fun by looking in the refrigerator for fruits & veggies or visiting the grocery store or farmer's market
Ask your child questions like
What fruit or veggie do you think will be fun to use?
What do you think will make an interesting design?
If I cut the fruit in certain ways will it make different patterns?
How to Stamp Paint with Fruits & Vegetables
Pour different colored paints on separate plates
Cut the fruits and veggies in half or try cutting in different ways
Cut the bottom of the celery bunch to use the the bottom as your stamp
Take one of your new home made stamps and press it into the paint
Now stamp the paper to create your own fruit & veggie masterpiece
Examine the stamps & ask open ended questions
What do they look like?
Do you see something in the middle?
What do you think you will see when we use the stamp on the paper?
Take a look at your final painting and ask
What do you see when you use the celery? Apple? Orange?
Can you see the pattern from the fruit/veggie stamp in your picture?
Stamp art is a great open ended activity & a fun way for your child to be creative! Bonus – You get something to hang on the refrigerator! 🙂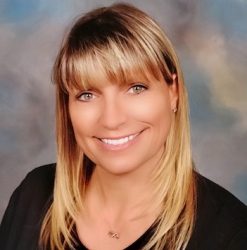 Latest posts by Jenni Rice - Owner & Director
(see all)