[quote author_name="Jenni Rice" author_description="Director & Owner" author_image="https://halseyschools.com/wordpress/wp-content/uploads/2013/11/Jenni-Rice-Owner-Director.jpg" size="small" style="solid"]
If you thought June was fun, July will be even better! This month our theme will be 'Let's Go Camping!' We will have lots of fun camping activities, games, projects and MORE! We will be reading Maisy Goes Camping, Toasting Marshmallows, Curious George Goes Camping, Pet the Cat Goes Camping, and Llama Llama Loves Camping. You can cuddle up and read these great books with your child at home too.
[/quote]
Staff Development Training 6/30 & 7/1: Being extra expressive under face coverings while helping children identify expressions and feelings through body language, eyes and other cues. | Every month our teachers learn something new, takes a look at something old from a new perspective, reinforces and reinvigorates previous education and training, or just have some hands-on fun through our regular training programs.
Sign Up for July hot lunches: All Natural & Organic Hand- Crafted Locally Sourced Fresh & Healthy Lunches for Toddlers-Preschool. Sign Up here.
Wear it: 7/2 Red, White, & Blue
Closed: July 3 – Friday. Have a super safe weekend. Assume everyone outside of your immediate family you come in contact with is infected. Remember to wear your mask, practice social distancing, be outdoors as much as possible and stay away from crowds and gatherings. COVID-19 spreads when extended families gather and members let their guards down. It's only natural to be more careful when out and about or at work, than it is when families gather and we want that hug or kiss. Please stay safe.
Camp Halsey Safe Water Play activities start 7/6 and will take place regularly
Toddlers – Monday & Thursday
Busy Bees & Dragonflies – Monday
Pandas & Penguins – Wednesday
Please make sure your child has:
Bathing suit or swim diapers
Sunblock SPF 30 or more applied
Extra Sunblock
Water shoes
Water shirt
Towel
Hat
Summer change of clothes & regular shoes
Please remember to label everything.
Reminders
Self Screening at home: Keep up the good work! Parents and teachers have been doing an awesome job of self screening and staying home when any concerns arise. No runny noses. No illnesses. Only healthy teachers and children at school. 🙂 We haven't had to turn anyone away during arrival screening or send anyone home. Read How we are keeping parents, children and teachers safe for details on self screening and our daily entrance screening.
Wear Sunscreen Everyday: It's Sunscreen Time! If you've stopped applying daily sunscreen, it's time to get back into the swing of things. Children (10 months+) should come to school wearing an SPF 30 or more on all exposed areas of the skin. If you would like us to re-apply a medication form must be completed. We also recommend wearing a hat. We will be having a lot of outdoor fun! (Always consult your child's physician.)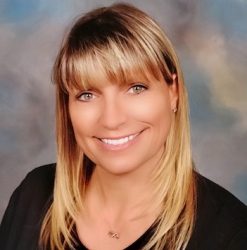 Latest posts by Jenni Rice - Owner & Director
(see all)