Weekly Themes & Stories
This summer we will have weekly fun activities centered around our summer theme Family Fun at Disneyland! We will learn about Main Street USA, Adventure Land, New Orleans Square, Critter Country, and Star Wars: Galaxy's Edge this month. We will read I am Walt Disney, the Jungle Book, Dinosaur Mardi Gras, Bear Country and Star Wars Little Golden Book. We are still wearing masks & parents have to remain outside of the building. Starting July 6th our hours will be 7:30-5:30. Keep following our important illness & safety protocols at home and we'll do the same at school.
Events
Wear it: 6/29 Disney Ears | 7/23 Wear Animal Print Shirt
BBQ party & Independence Parade: 07/02 BBQ party & Independence Parade at 10:00 a.m. Please see signups in classrooms. Wear Red, White & Blue!
School Closed 7/5: Independence Day!!! Have a great weekend! We'll be thinking about you. Fireworks start again at Disneyland 7/4! 🙂 Starting July 6th our hours will be 7:30-5:30.
Increased Hours 7/6: Our hours will be 7:30-5:30 M-F.
Bring it: 7/7 A Jungle Animal | 7/15 Favorite instrument | 7/27 Star Wars Toy
Staff Development Training 7/27 & 7/28: Understanding Physical Development in Preschoolers | Every month our teachers learn something new, take a look at something old from a new perspective, reinforce and reinvigorate previous education and training, or just have some hands-on fun through our regular training programs. | We have partnered with Quality Start Los Angeles (QSLA) again for 2021! This partnership allows us to provide regular free training to our teachers to make ourselves and our program even better! In addition to many training opportunities, we will also have personal coaches to help us set goals for ourselves, the classrooms, the children and the school. Just one of the many ways we keep making Halsey Schools even better! | Learn more about our happy teachers here.
Reminders
July 6th update: Hours increased 7:30-5:30. After a successful transition to 7:30-5:30 we will increase the hours again most likely by a ½ hour a side until we get back to our normal 6:30-6:30 hours. In order to accommodate extended hours Preschool children's groups will be mingled in the morning and afternoon but will be kept in their usual groups: Pandas, Penguins, Dragonflies & Busy Bees, throughout the core of the day. For the safety of the children, we are still wearing masks inside & parents can come into the school by appointment only with masks on. Not to drop off or pick up. Nursing mother's can come in to nurse as needed and scheduled with the teachers.
Drop off and pickup remains the same with masks on for parents, teachers and children 2+ | Self home checks and staying home when ill remains the same. | Children 2+ will no longer be required to wear masks during outside playground time and neither will teachers. However, masks are still required inside all the time and outside for pickup and drop off.
We don't expect any other major changes until we receive the all clear from the Department of Social Services and The County Of Los Angeles Department Of Public Health Order Of The Health Officer. | How we are keeping children, parents and teachers safe click here.
Taking a vacation? Let us know your summer plans here or block out dates in your Parent Portal at least two weeks before your vacation.
Teacher Vacations: Our teachers take well deserved time off year round but many vacations take place during the summer. You will notice some new and returning faces as we give the teachers the breaks they deserve. One of the great things about Halsey Schools is our team teaching atmosphere that allows your children to bond with our entire staff. So even when some of the teachers are hanging out at the beach, there will always be other familiar faces at school and camp.
Drought Responsible Water Play Starts 7/5: There will undoubtedly be regularly increasing water use restrictions this summer, however, we do plan to enjoy responsible waterplay. Please make sure your child has:
Bathing suit or swim diapers
Sunblock SPF 30 or more applied
Extra Sunblock
Water shoes
Water shirt
Towel
Hat
Summer change of clothes & regular shoes
Please remember to label everything
Drought Responsible Water Play Schedule: There will undoubtedly be regularly increasing water use restrictions this summer, however, these are the days we will have pre-planned responsible water activities. However it's best to always have all the water play supplies at camp.
Infants: Random
Tiny Tots: M/Th
Toddlers: T/F
Pandas: Th
Penguins: W
Dragonflies: T
BusyBees: F
Wear Sunscreen Everyday: Children (10 months- 6yrs) should come to school wearing an SPF 30 or more on all exposed areas of the skin. If you would like us to re-apply a medication form must be completed. We also recommend wearing a hat. We will be having a lot of outdoor fun! (Always consult your child's physician.)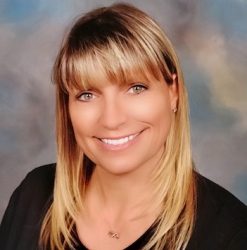 Latest posts by Jenni Rice - Owner & Director
(see all)