Weekly Themes & Stories
Thank you so much for letting us spend our days with your children. It's definitely been a different year for all of us, but thanks to you and your children our days have been filled with hope, joy, love, enthusiasm, wonder, laughs, smiles, giggles and lots of learning fun. We can't even begin to express how thankful we are to be a part of your children's lives. And what a joy it brings to all of us to spend our days with such precious children. We are looking forward to the day we get to spend real facetime together. This month we'll be learning about Dory & Nemo, Ariel, Moana, and Lilo & Stitch. Our Hours will remain 8-5. Keep following our important illness & safety protocols at home and we'll do the same at school. Please remember when dropping off and picking up, always park legally. Never block driveways, park in driveways, or double park. Please pull all the way into the parking garage or park on the street.
Events
Karate is back! for children 3+. All classes will take place outside. All equipment will be disinfected between groups and before coming into our yards. Each class (Pandas, Penguins, Dragonflies, Busy Bees) will have their own session. All Enrichment Instructors will wear masks and follow all the same screening procedures as our teachers. Click below for more information and to sign-up.
School Closed 5/31: Memorial Day. Have a great weekend! We'll be thinking about you.
Staff Development Training 6/1 & 6/2: Math Skills and Young Children | Every month our teachers learn something new, take a look at something old from a new perspective, reinforce and reinvigorate previous education and training, or just have some hands-on fun through our regular training programs. | We have partnered with Quality Start Los Angeles (QSLA) again for 2021! This partnership allows us to provide regular free training to our teachers to make ourselves and our program even better! In addition to many training opportunity we will also have personal coaches to help us set goals for ourselves, the classrooms, the children and the school. Just one of the many ways we keep making Halsey Schools even better! | Learn more about our happy teachers here.
Wear it: 6/2 Orange for Nemo or Blue for Dorie | 6/15 Blue | 6/24 Hawaiian Shirt
Bring it: 6/10 Sea Animal
Modified Daddy's Craft Week 6/14-18: We will be providing you with a special Daddy & Me craft project for you to do at home.
California's June 15 reopening update: Nothing will change at Halsey Schools on June 15. We will keep you posted if/when any modifications to our COVID-19 policies will take place. Please continue to wear masks, etc… What are our current policies? Read How we are keeping children, parents and teachers safe.
Daddy Facebook LIVE Celebration 6/17 Thursday: We will be celebrating our Daddy's virtually through Facebook. Please join us!! Penguins- 9:15 am | Pandas-9:30 am | Early Learners-9:45 am | Toddlers-10:00 am | Dragonflies-10:30 am | Busy Bees-10:45 am.
Modified Busy Bees' Graduation 6/25: 10:00a.m. at the preschool we will be having our Annual Preschool Graduation Ceremony for our Busy Bees outside on the front yard. To keep things safe, only parents can attend the graduation. Parent provided refreshments will be served afterwards. If you would like to bring something, please sign up with Ms Raquel and drop off your treats before or right after the graduation. Parent's usually take children home afterwards but your children are welcome to stay. If you need care before 9:30 you are welcome to bring your child before the graduation starts. All graduates should be at school at 9:30 to get ready. Please remember this year only Mommies and Daddies (or two guardians only) can attend. This will be our first parent activity since the pandemic so please help us keep it safe. 🙂
Report Cards 6/25: Penguins, Dragonflies & Busy Bees will receive their report cards today. They are designed to let you know what your children have learned and to make them feel good. We are so proud of what they have learned aren't you?
Camp Halsey 6/28: Time to think about summer! The learning fun doesn't end at Halsey Schools; The summer is when it really takes off! Currently enrolled families automatically continue for the summer. New families & Kindergartners can start at anytime as long as space is available. Busy Bees who graduated last year are welcome back too! | Taking a vacation? Let us know your summer plans here or block out dates in your Parent Portal at least two weeks before your vacation.
Reminders
Park SAFELY & LEGALLY: Please remember when dropping off and picking up, always park legally. Never block driveways, park in driveways, or double park. Please pull all the way into the parking garage or park on the street.
Family Vacations: Will you be taking a summer vacation? Please fill out the What Are Your Summer Plans or block out dates in your Parent Portal at least two weeks before your vacation. This will allow us to plan accordingly for our daily activities and not worry about why your child is not at camp. Thank You!
Wear Sunscreen Everyday: It's Sunscreen Time! If you've stopped applying daily sunscreen, it's time to get back into the swing of things. Children (10 months- 6yrs) should come to school wearing an SPF 30 or more on all exposed areas of the skin. If you would like us to re-apply a medication form must be completed. We also recommend wearing a hat. We will be having a lot of outdoor fun! (Always consult your child's physician.)
Temporary Hours remain: 8-5 with same drop off and pick up procedures.
Lunch Menu: Look for the lunch menu in sandbox post.
Self Screening at home: Keep up the good work! Parents and teachers have been doing an awesome job of self screening and staying home when any concerns arise. No runny noses. No illnesses. Only healthy teachers and children at school.
Arrival screening: Our arrival screening is going GREAT! Read How we are keeping parents, children and teachers safe for details on self screening and our daily entrance screening. Together we are keeping everyone safe.
Report and isolate: If you or anyone in your family has had any exposure to any person who has a suspected or confirmed case of COVID-19 report it to us immediately and self isolate. Thank you. Read More
Never send your child to school if you or anyone in your household is sick with anything and/or if you are waiting for COVID-19 test results for anyone in the household.
Masks for children 2+ years old: Thank you for helping your children learn how to put on and off, wear, and store their masks properly. We are so proud of all the children and the parents! What a team we are! (No children under 2 can wear a mask.) Read More.
Traveling? Please let up know your plans so we can provide guidance on what you will need to do for your child to return.
Illness Policy: We follow a strict written Illness Policy
All families & teachers self-check at home and are checked before entry for any signs of illness. Temperatures are checked. Anything >100° stays home. All illnesses stay home.
Any COVID-19 symptoms require 1+ negative COVID-19 tests and/or 10-14 day quarantine and no symptoms. And administration/director approval. Read More
If your child visits a doctor for any illness, please ask for a return authorization note. Halsey Schools reserves the right to exclude a child from school at any time for any reason, even if a doctor or other recommends otherwise
If we have 3 or more children come down with something (other than COVID-19) we provide more information on the illness.
Stay home with your child if you, your spouse or anyone else who is in your home regularly like a nanny, grandparent, sibling, cleaning person or your child tests positive for COVID-19. And notify us immediately.If there was possible exposure at school we will notify those possibly exposed directly.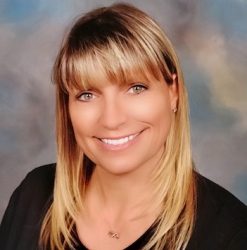 Latest posts by Jenni Rice - Owner & Director
(see all)