Themes & Books
This month we will learn about Chickens, Pigs, Cows & Ducks. We will read Farm Animals, If You Give a Pig a Pancake, The Flea's Sneeze, & The Ugly Duckling.
Events
Bring it: Picture of a favorite farm animal 2/6 | Something made from a cow 2/21 | A game or book about ducks 2/27-3/3
Staff Development Training 2/7 & 2/8: Helping all Children Reach Their Full Potential. | Every month our teachers learn something new, takes a look at something old from a new perspective, reinforces and reinvigorates previous education and training, or just have some hands-on fun through our regular training programs. | Learn more about our happy teachers here.
Wear it: The color pink 2/14
Valentine's Parties 2/14 10:00-12:30: Tiny Tot & Toddler Parents – Please look for the sign-up sheet on the front door outside your child's classroom about a week before. Please do not send candies. We suggest: stickers, stamps, pencils, squishy bouncy balls, Valentine tattoos, etc. Preschool parents – Please look for a party item request note that will be sent home the week before the party. A list of the children's names will be sent home, if you would like to make personal valentines cards/gifts. Please do not send candies. We suggest: stickers, stamps, pencils, squishy bouncy balls, Valentine tattoos, etc.
School Closed: President's Day 2/20 – Have a nice long weekend!
2/22 Parent Social @ 4:00-5:00 pm: Mommies and Daddies come join us outside on your child's campus for some fun outdoor socialization & activities. The party starts at 4:00 for Infants, Tiny Tots, Toddlers, & Preschoolers. No mask or proof of immunization and boosters needed.
Shhhhh. Surprise Readers: We have been having a lot of fun with our parents visiting as surprise readers. If you would like to participate, please arrange with your child's teachers or Sign up here. Please make sure to wear your mask.
Reminders
January & February Billing: January billing took place after the 1st of January instead of December 20th. | On January 20th the normal billing schedule will resume for February tuition.
2023 – 2024 Enrollment: It's time to make plans for the next school year. Your child's space is reserved. On February 20, your account will be automatically billed the non-refundable $275 materials & supplies fee deposit (per family) to confirm the reservation & space for 2023-2024. If your child will not be attending for the upcoming school year, please complete this online form by 2/15 or let us know through Sandbox by 2/15. We look forward to celebrating our 45th year with you and your family.
COVID Vaccine: Lots of children have already received the COVID vaccine. If your child hasn't received it yet, it's time to get it ASAP. They are available to everyone 6 months of age and older. Parents have reported no major issues with getting the vaccine. Please protect your child and get the vaccine ASAP before all the holiday gatherings are in full swing. 🙂
Illness Policy: We follow a strict written Illness Policy. PLEASE keep your child home if they are sick. It is important to keep the children & staff healthy.
Hot Beverages: Please remember to keep coffee and other hot beverages off campus.. For safety reasons, there is no drinking of hot beverages allowed on any of Halsey Schools grounds, or on any Halsey Schools trips or other events. If you would like to drink hot beverages, please do so off campus or before coming dropping off or picking up your child.
Sheets & Blankets: All children must have a sheet & blanket for nap time everyday. Please make sure to send a sheet & blanket at the start of the week. Please have your child's name printed on them. Thank you!
Winter change of clothes: Please make sure your child has a weather appropriate change of clothing.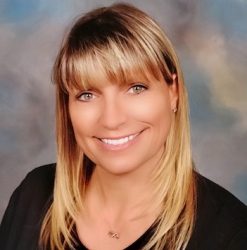 Latest posts by Jenni Rice - Owner & Director
(see all)