Themes & Books
This month we will learn about Fishes, Parrots, Cats, Rabbits, and Dogs. We will read The Rainbow Fish, If You Were A Parrot, Have you Got My Purr?, White Rabbit's Color Book, and The Great Gracie Chase.
Events
Wear it: Your favorite color of the rainbow 5/1 | Wear your favorite color 5/22.
Teacher Appreciation Week 5/1-5/5: We all know how important praise and recognition is for our children. Sometimes we forget how important it is for our teachers too. Please let them know how much we all appreciate them. A little gesture can make a huge difference.
National Screen Free Week 5/1-5/7: Turn off all your screens for a week. Can you to do it? If you can't do it for a week, try it for an hour or two a night. You'll be amazed what a difference it makes. There are lots of things to do that don't involve screens and encourage family time.
Staff Development Training 5/2-5/3: Strategies to help manage challenging behaviors. | Every month our teachers learn something new, takes a look at something old from a new perspective, reinforces and reinvigorates previous education and training, or just have some hands-on fun through our regular training programs. |  Learn more about our happy teachers here.
Bring it: A book or toy about parrots All week 5/8-5/12 | A picture of you & Mommy All Week 5/8-5/12 | A picture of your pet All week 5/15-5/19 | A dog stuffed animal 5/31.
Mommy's Craft Week 5/8-5/12: Mommies, Grandmas and Great Grandmas join us anytime this week between 9 a.m.– 5 p.m. for a special Mommy & Me activity outside your child's classroom. Please arrange a time that works for you with your child's teachers. Drop off and pick up times are usually the best and easiest.
Mother's Day Outdoor Celebration 5/12: Mommies, Grandmas & Great Grandmas join us for a yummy celebration in your honor full of treats, and lots of fun. Infant Center – 9:30, Tiny Tots – 10:00, Toddlers – 10:30, Preschool – 11:00.
Pet Share Week 5/15-5/19: Share your pets this week! All pets must be very friendly. Small animals in cages make the best visitors but dogs, cats & other are welcome too. Pets that live in cages or bowls like hamsters, fish and lizards are welcome to stay for the day. Other pets like dogs and cats may come for short outside visits, when you pick up or drop off, but can not be left at school. You can bring a picture of your pet to share instead. Please arrange all pet visits with your child's teachers.
Make-up pictures Monday 5/22: with Julie Lilly photography starts @ 9:00 at the Toddler Center ( for all students that missed). If your child missed picture days they can have their picture done on this day. Please complete order form and include payment by picture day. Look for pictures within 4 weeks. Return for refund if any problems. You can either have your child wear his/her photo outfit or send an outfit to change into. Order form & prices. (If an order form was not completed one pose will be taken and proofs will be provided within 4 weeks.)
School Closed Monday 5/29: Memorial Day. Have a great weekend! We'll be thinking about you.
Reminders
Shhhhh. Surprise Readers: We have been having a lot of fun with our parents visiting as surprise readers. If you would like to participate, please arrange with your child's teachers or Sign up here. 
Spring Change of Clothes: Please make sure your child has at least one complete set of extra spring clothes & shoes. Don't forget to label everything.
Wear Sunscreen Everyday: It's Sunscreen Time! If you've stopped applying daily sunscreen, it's time to get back into the swing of things. Children (10 months- 6yrs) should come to school wearing an SPF 30 or more on all exposed areas of the skin. If you would like us to re-apply a medication form must be completed. We also recommend wearing a hat. We will be having a lot of outdoor fun! (Always consult your child's physician.)
COVID Vaccine: Lots of children have already received the COVID vaccine. If your child hasn't received it yet, it's time to get it ASAP. They are available to everyone 6 months of age and older. Parents have reported no major issues with getting the vaccine. Please protect your child and get the vaccine ASAP before all the holiday gatherings are in full swing. 🙂
If your child has received any COVID vaccinations, please go into your Parent Portal page and add the dates to your child's immunization record. Thank you.
Illness Policy: We follow a strict written Illness Policy. PLEASE keep your child home if they are sick. It is important to keep the children & staff healthy.
Sheets & Blankets: All children must have a sheet & blanket for nap time everyday. Please make sure to send a sheet & blanket at the start of the week. Please have your child's name printed on them. Thank you!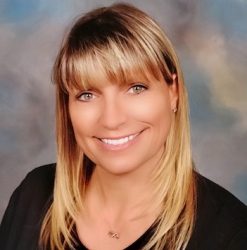 Latest posts by Jenni Rice - Owner & Director
(see all)