Here are some things you can do at home to reinforce and duplicate what we're learning at school. And remember children learn best by doing. So have them roll up their sleeves and get ready for some hands on fun! Activities should be age appropriately adjusted so that all ages infants to preschoolers can participate.
What you will need: leaves…
an inquisitive child and various household items
What you won't need: Cell phones, TVs, Computers…
What you'll do: Explore leaves
Start the fun with a nature walk & hunt for leaves
Bring a container to collect the leaves.
Walk at around the block, around a park or take a hike.
How many different shaped leaves can you find?
What colors are they?
What kind of sound do leaves make when you step on them?
Is it windy? Warm? Cold?
Sunny? Dark?
What do you smell?
Explore the Leaves at home
Math Skills: How many leaves long are you?
Lay down on the ground and place a line of leaves starting from your head to your feet.
Count how many leaves are in the line. That is how many leaves long you are!
Do the same with family members and other things around the house!
Science: Leaf Rub
Take a leaf and place it under a piece of paper. Then with the side of the crayon rub over the leaf.

What do you see?
Do you see all the neat lines that run through the leaf?
Do the same with different leaves & compare.

Is one bigger? Smaller? Flatter? Crunchier? Greener?
Sensory Development:
Sit in the middle of a pile leaves, throw them up in the air & see how they fall.
Rub leaves in your hands. Are they hard or soft?
Crumple them up in your hands. Do they fold up or do they crumble apart?
What kind of sound do leaves make when you crumple them up?
Language Arts:
Go through magazines and cut out pictures of things that start with 'l' like leaves, licorice, light…
Now make a collage of all the things you found.
Spanish:
Fall – caida
Leaves – hojas
Brown – marrón

Crunch – crujido

Use google's translator for more here
Story Time:
Read a book about leaves. If you don't have any at home, you can find some at the library or on Amazon! The children always enjoy We're Going on a Leaf Hunt by Steve Metzger and Miki Sakamoto.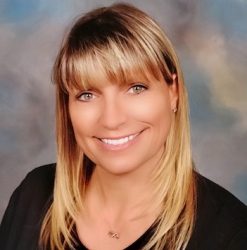 Latest posts by Jenni Rice - Owner & Director
(see all)