Make Kool-Aid Play dough
You need these ingredients:
1 cup salt
1 1/2 cup flour
1/2 cup water
2 Tablespoons oil
A Packet of Kool-aid
Do this:
Empty the packet of Kool-aid into the water & mix well.  Set aside for later.
Place all the remaining dry ingredients and the oil into a large bowl.
Add the water mixture.  Stir until all liquid & flour mixture is mixed well.
If  play dough is too sticky, add little amounts of  flour till it is no longer sticky
Play with it!
Store it in an airtight container or plastic bag for two weeks or so.
It's safe to eat but I think cardboard is more tasty.
When you make Kool-aid play dough your child will learn:
Math Skills
Measuring; fractions, cups, tablespoons…
Comparing & contrasting – bigger, smaller, lighter, darker…
Verbal Skills
Motor Skills
Mixing (with spoon & hands)
Pouring
Rolling
Reading Skills
Following written directions
Reading fractions & numbers
Sensory Skills
Feeling different textures
Different smells
Colors
And a lot more!
Doing cooking and science projects together with you children at home is a great way to help reinforce what we are learning at school and strengthen family bonds. I hope you have fun creating memories.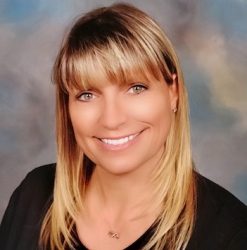 Latest posts by Jenni Rice - Owner & Director
(see all)