Make gifts with your preschooler
Preschoolers love to get their hands dirty. They love to touch, feel and explore. They also love to make things for the people they love. Gifts made by hand have a lot more meaning then something bought from the store. Here are some ideas we make with the children at school. Try making them at home with your child for the ones you love. Happy Holidays!
Gift for Grandma – Fingerprint Animal Flower Pot
Items You Need
Flower pot
Different colors of paints
Black paint pen
Spray satin shellac
A child's fingers for fingerprints
Soil & flower or plant
Start Painting
With the paint, have your child make fingerprints on the flower pot.

Just dip fingers and the paint and press on the pot.

When fingerprints are dry, take the black paint pen & create your animal or flower.
Write: I Love You Grandma! Or something else along the top or anywhere.
Add the your child's name & date to the bottom of the pot.
When all the paint is dry, spray with shellac.
Now plant a seasonal plant or Grandma's favorite flower in the pot
You're ready to wrap and give the gift.
Gift for Grandpa – Grandpa's favorite cookies
If you don't know his favorite, just ask. Or you can try My Grandpa's favorite. He loved these Ginger Snap Cookies.
Ginger Snap Cookies
Items You Need:
3/4 cup margarine
1 cup white sugar
1 egg
1/4 cup molasses
2 cups all-purpose flour
1 tablespoon ground ginger
1 teaspoon ground cinnamon
2 teaspoons baking soda
1/2 teaspoon salt
1/2 cup white sugar for decoration
Directions
Preheat oven to 350 degrees F.
In a medium bowl, cream together the margarine and 1 cup white sugar until smooth.
Beat in the egg and molasses until well blended.
Combine the flour, ginger, cinnamon, baking soda and salt; stir into the molasses mixture to form a dough.
Roll dough into 1 inch balls and roll the balls in the remaining sugar.
Place cookies 2 inches apart onto ungreased cookie sheets.
Bake for 8 to 10 minutes in the preheated oven.
Allow cookies to cool on baking sheet for 5 minutes before removing to a wire rack to cool completely.
Eat them with Grandpa! (Recipe makes 3 dozen.)
Gift for Daddy – Hand Print Pajama Pants
Items You Need:
A pair of dad's favorite colored cotton lounging pants
fabric paint & pens
Directions
Put the paint on your child's hand with a brush or roller. Or put the paint on a plate and have your child dip just the palm side of his/her hand in the paint.
Now place his/her hand on different areas on the pants. Refresh paint as necessary.
Add a note with the fabric pens. You can write, the year, Happy Holidays, what ever you want. 
You're ready to wrap and give the gift.
Gift for Mommy – Homemade Body Scrub
Items you need
Body oil
Epsom salt, sea salt, or organic cane sugar (Pick one depending on how fine a grain you think Mommy will like.)
12 oz. PET Jar with cap
Lemon zest or orange zest or pomegranate juice or any other scent Mommy will like.
Make it
Combine 1 cup of body oil with 2 cups of Epsom or sea salts or organic cane sugar. (You can also combine them all).
Add the zest, juice or scent of your choice little by little until it's just right.
Package in jars
You're ready to wrap and give the gift.
Gift for anyone
Glowing Picture Candle
You need:
Battery operated tea light
Cylindrical glass vase
Vellum paper
Vellum glue, dots or double sided tape
Digital picture (horizontal)
Make it:
Print a black & white picture the gift getter will like on the vellum paper.
Wrap the paper around the vase, cut to size, adhere edges with double sided tape.
Put the tea light in the vase
You're ready to wrap and give the gift.
Happy Holidays!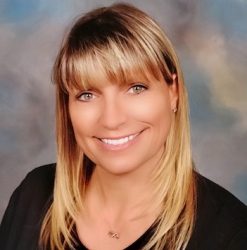 Latest posts by Jenni Rice - Owner & Director
(see all)