Themes & Books
This month we will learn about Rattlesnakes, Groundhogs, Skunks, Raccoons & Squirrels. We will read Snakes, Ten Grouchy Groundhogs, Skunks, A Pocket Full Of Kisses, & Nuts to You. | When you read, play or do just about anything else with your child at home, ask open ended questions like we do at school. Here's how to do it!
Events
School Closed: New Year's 1/02 – Happy New Year! | Martin Luther King Jr. Day 1/16 – Have a nice long weekend!
Busy Bee's Homework 1/3: In order to prepare you and the children for Kindergarten, the Busy Bee teachers will send fun homework packets home every Monday. The activities help the children practice the concepts they are learning at school and give you an opportunity to see some of the ways your child learns at school. Packets should be returned the following Monday. The children are not required to complete the homework, but those that do receive recognition for it during circle time. The homework is not graded or returned. | It is best to establish a consistent homework routine. We recommend doing it 2-3 days a week. For example every Monday, Wednesday & Friday or every Tuesday & Thursday. It's up to you and your family. You can always find the homework plans here.
Bring it: A toy snake 1/5 | Toy or book about groundhogs 1/9-13 | A hershey kiss for your best friend 1/24 | A story about a Squirrel 1/30-2/3
Staff Development Training 1/17 & 1/18: Young Children & Conflict Resolution. | Every month our teachers learn something new, takes a look at something old from a new perspective, reinforces and reinvigorates previous education and training, or just have some hands-on fun through our regular training programs. | Learn more about our happy teachers here.
School Closed Martin Luther King Jr. Day: 1/16 – Have a nice long weekend!
Wear it: 1/18 Black & White
Reminders
January Billing: January billing will take place on or after the 1st of January instead of December 20th. So your ACH and Credit Card charges will not be posted until on or after January 1. | On January 20th the normal billing schedule will resume for February tuition.
Masks required: Parents: Masks required indoors. Proof of COVID vaccine and all boosters still required to come inside. | Children: 2+ masks required indoors. | Teachers: Masks required indoors. CDC info
All children 24 months and older are required to wear disposable masks indoors and have a box of disposable masks in their cubby that have multiple layers of non-woven material with a nose wire. For example this 3 ply surgical mask with a wire nose from Amazon
Parents Welcome Inside: Masked parents are welcome to visit the classes inside a family at a time. Parents must provide proof of COVID vaccines & boosters. Parents must wash their hands and their children's hands when they arrive and before leaving for at least 20 seconds. Hand sanitizers or wipes can not be used. All visitors must be healthy & have no symptoms.
Parents are Welcome Outside: No proof of immunization and boosters needed. Parents are welcome to hang out outdoors  on the playgrounds with their child. Come have some fun!
Illness Policy: We follow a strict written Illness Policy. PLEASE keep your child home if they are sick. It is important to keep the children & staff healthy.
COVID Prevention: Keep following our important illness & safety protocols at home and we'll do the same at school.
Hot Beverages:  Please remember to keep coffee and other hot beverages off campus..  For safety reasons, there is no drinking of hot beverages allowed on any of Halsey Schools grounds, or on any Halsey Schools trips or other events. If you would like to drink hot beverages, please do so off campus or before coming dropping off or picking up your child.
Sheets & Blankets: All children must have a sheet & blanket for nap time everyday. Please make sure to send a sheet & blanket at the start of the week. Please have your child's name printed on them. Thank you!
Winter change of clothes: Please make sure your child has a weather appropriate change of clothing.
COVID Vaccine: Lots of children have already received the COVID vaccine. If your child hasn't received it yet, it's time to get it ASAP. They are available to everyone 6 months of age and older. Parents have reported no major issues with getting the vaccine. Please protect your child and get the vaccine ASAP before all the holiday gatherings are in full swing. 🙂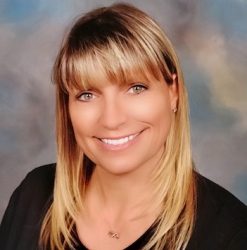 Latest posts by Jenni Rice - Owner & Director
(see all)