Themes & Books
This month we will learn about Goats, Sheep, Horses, Ponies & Turkeys. We will read No More Biting for Billy Goat!, The Animals of Farmer Jones, The Jolly Barnyard & The Great Turkey Race.
Events
Pajama Day 3/2: It's National Read Across America day. Come to School in your pajamas all day long and bring in your favorite story to share with the class. All children; Infants, Toddlers & Preschoolers will join in on the fun!
Shhhhh. Surprise Readers: We have been having a lot of fun with our parents visiting as surprise readers. If you would like to participate, please arrange with your child's teachers or Sign up here. Please make sure to wear your mask.
Bring it: A book about goats or stuffed animal 3/6-3/10 | A plastic barnyard animal 3/20 | A book about Turkeys 3/27-3/31.
Staff Development Training 3/7 & 3/8: Hands-on preschool math activities that make learning fun!. | Every month our teachers learn something new, takes a look at something old from a new perspective, reinforces and reinvigorates previous education and training, or just have some hands-on fun through our regular training programs. | Learn more about our happy teachers here.
Wear it: Something made out of wool or white 3/13.
3/14 Parent Social @ 4:00-5:00 pm: Mommies and Daddies come join us outside on your child's campus for some fun outdoor socialization & activities. The party starts at 4:00 for Infants, Tiny Tots, Toddlers, & Preschoolers. No mask or proof of immunization and boosters needed.
Assessments & Parent Conferences 3/27-3/31: Written assessments are handed out 3/20. Your child's teachers carefully observe your child to assess for appropriate developmental milestones. Children develop at their own pace so the criteria we follow offers a broad age range for each milestone. Some children might reach a designated milestone at 7 months old. But others might reach it at 4 months or 10 months. If you would like to schedule a conference by phone or in person with your child's teachers, sign up below. Of course you can always call or ask a quick question too.
Reminders
Mask update 3-1-23 : It's time to put the masks away for now. (If local transmissions change or if we have a case on campus, have masks ready just in case.) Parents: No masks required indoors but they can still be worn inside. Proof of COVID vaccine and all boosters still required. Children: No masks required regardless of vaccination status. Please let us know if you still want your child to wear a mask indoors. Teachers: No masks required but they are still optional and some teachers may still wear them at their own discretion.
COVID Vaccine: Lots of children have already received the COVID vaccine. If your child hasn't received it yet, it's time to get it ASAP. They are available to everyone 6 months of age and older. Parents have reported no major issues with getting the vaccine. Please protect your child and get the vaccine ASAP before all the holiday gatherings are in full swing. 🙂
If your child has received any COVID vaccinations, please go into your Parent Portal page and add the dates to your child's immunization record. Thank you.
Illness Policy: We follow a strict written Illness Policy. PLEASE keep your child home if they are sick. It is important to keep the children & staff healthy.
Hot Beverages: Please remember to keep coffee and other hot beverages off campus.. For safety reasons, there is no drinking of hot beverages allowed on any of Halsey Schools grounds, or on any Halsey Schools trips or other events. If you would like to drink hot beverages, please do so off campus or before coming dropping off or picking up your child.
Sheets & Blankets: All children must have a sheet & blanket for nap time everyday. Please make sure to send a sheet & blanket at the start of the week. Please have your child's name printed on them. Thank you!
Wear Sunscreen Everyday: It's Sunscreen Time! If you've stopped applying daily sunscreen, it's time to get back into the swing of things. Children (10 months- 6yrs) should come to school wearing an SPF 30 or more on all exposed areas of the skin. If you would like us to re-apply a medication form must be completed. We also recommend wearing a hat. We will be having a lot of outdoor fun! (Always consult your child's physician.)
Spring Change of Clothes: Please make sure your child has at least one complete set of extra spring clothes & shoes. Don't forget to label everything.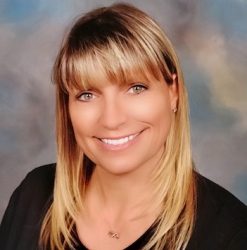 Latest posts by Jenni Rice - Owner & Director
(see all)