This month we'll be learning about Chip 'n Dale, Mowgli & Baloo, The Fox & the Hounds & Chicken Little. We'll read Chip 'n' Dale Rescue Rangers, The Jungle Book, Disney's Animal Stories, and Chicken Little.  Our Hours will remain 8-5. Please keep following our important illness & safety protocols at home and we'll do the same at school.
Wear it: 2/3 Something with wilderness critters on it | 2/8 A bear | 2/17 A Fox | 2/25 Glasses like Chicken Little
Staff Development Training 2/9 & 2/10:  Math Matters: Children's Mathematical Journeys Start Early . | Every month our teachers learn something new, take a look at something old from a new perspective, reinforce and reinvigorate previous education and training, or just have some hands-on fun through our regular training programs. |  Learn more about our happy teachers here.
Valentine's Parties 2/11 10:00-12:30: Tiny Tot & Toddler Parents – Please look for the sign-up sheet on the front door outside your child's classroom about a week before. Please do not send candies. We suggest:   stickers, stamps, pencils, squishy bouncy balls, Valentine tattoos, etc. Preschool parents – Please look for a  party item request note that will be sent home the week before the party. A list of the children's names will be sent home, if you would like to make personal valentines cards/gifts. Please do not send candies. We suggest:   stickers, stamps, pencils, squishy bouncy balls, Valentine tattoos, etc.
School Closed: 2/15 for Presidents' Day
January & February Billing: January billing took place after the 1st of January instead of December 20th. | On January 20th the normal billing schedule will resume for February tuition.
2021 – 2020 Enrollment: It's time to make plans for the next school year. Can you believe it?! Good News! Your child's space has already been reserved. On February 20, your account will be automatically billed a non-refundable $250 deposit (per family) to confirm the reservation. In September, the non-refundable $250 deposit will be applied toward the Materials and Supplies fee of $250. This fee is used to purchase new supplies & equipment for the children throughout the year. After March 1, we will begin filling spaces with children on our waiting list. New applications will also be accepted if space permits. Space is limited in every class. If your child will not be attending for the upcoming school year, please complete this online form by 2/15. We look forward to celebrating our 41st year with you and your family.
Dropping off and picking up in the rain: Infant & Toddler Center: If it is raining, take your child directly to the appropriate door. At pickup go back to the same door. Please always remain outside. Teachers will help children wash their hands inside.
Temporary Hours remain: 8-5 with same drop off and pick up procedures. 
Lunch Menu: Look for the lunch menu in sandbox post.
Hot Beverages:  As the days and mornings become cooler, please remember to keep coffee and other hot beverages off campus..  For safety reasons, there is no drinking of hot beverages allowed on any of Halsey Schools grounds, or on any Halsey Schools trips or other events. If you would like to drink hot beverages, please do so off campus or before coming dropping off or picking up your child.
Sheets & Blankets: All children must have a sheet & blanket for nap time everyday.  Please make sure to send a sheet & blanket at the start of the week.  Please have your child's name printed on them.  Thank you!
Fall/Winter change of clothes: Please make sure your child has a weather appropriate change of clothing. 
Self Screening at home: Keep up the good work! Parents and teachers have been doing an awesome job of self screening and staying home when any concerns arise. No runny noses. No illnesses. Only healthy teachers and children at school.  
Arrival screening: Our arrival screening is going GREAT! Read How we are keeping parents, children and teachers safe for details on self screening and our daily entrance screening. Together we are keeping everyone safe. 
Report and isolate: If you or anyone in your family has had any exposure to any person who has a suspected or confirmed case of COVID-19 report it to us immediately and self isolate. Thank you. Read More 
Never send your child to school if you or anyone in your household is sick with anything and/or if you are waiting for COVID-19 test results for anyone in the household. 
Masks for children 2+ years old: Thank you for helping your children learn how to put on and off, wear, and store their masks properly. We are so proud of all the children and the parents! What a team we are! (No children under 2 can wear a mask.) Read More. 
Traveling? Please let up know your plans so we can provide guidance on what you will need to do for your child to return. 
Illness Policy: We follow a strict written Illness Policy
All families & teachers self-check at home and are checked before entry for any signs of illness. Temperatures are checked. Anything >100° stays home. All illnesses stay home.
Any COVID-19 symptoms require 1+ negative COVID-19 tests and/or 10-14 day quarantine and no symptoms. And administration/director approval. Read More
If your child visits a doctor for any illness, please ask for a return authorization note. Halsey Schools reserves the right to exclude a child from school at any time for any reason, even if a doctor or other recommends otherwise
If we have 3 or more children come down with something (other than COVID-19) we provide more information on the illness.
Stay home with your child if you, your spouse or anyone else who is in your home regularly like a nanny, grandparent, sibling, cleaning person or your child tests positive for COVID-19.  And notify us immediately.If there was possible exposure at school we will notify those possibly exposed directly.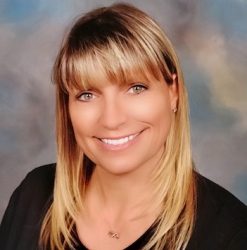 Latest posts by Jenni Rice - Owner & Director
(see all)