This month we'll be learning about Dumbo, Tiana, Winnie The Pooh and Rapunzel. We will read Dumbo, Tiana's Winter Treats, Winnie The Pooh's Friendship Book and Tinkerbell and Her Magical Friends.  Our Hours will remain 8-5. Please keep following our important illness & safety protocols at home and we'll do the same at school.
Bring It: 3/1: an elephant | 3/8: a frog  | 3/22-26 A flashlight all week. | If you want to bring a real frog or elephant please clear with the teachers first. 🙂
3/2 Pajama Day, Dr Seuss Day, Read Across America: In honor of Dr. Seuss' Birthday it's National Read Across America day. Come to school in your pajamas all day long! Please have your child wear PJs to school and bring in a favorite Dr. Seuss story to share with the class. All children; Infants, Toddlers & Preschoolers will join in on the fun!
Wear it: 3/2 Pajamas | 3/17 St. Patrick's Day Shirt or Green
Staff Development Training 3/9 & 3/10:  Getting the MOST out of Picture books | Every month our teachers learn something new, take a look at something old from a new perspective, reinforce and reinvigorate previous education and training, or just have some hands-on fun through our regular training programs. |  Learn more about our happy teachers here.
Assessments & Parent Conference CALL 3/29-4/2: Written assessments are handed out 3/22. Your child's teachers carefully observe your child to assess for appropriate developmental milestones. Children develop at their own pace so the criteria we follow offers a broad age range for each milestone. Some children might reach a designated milestone at 7 months old. But others might reach it at 4 months or 10 months.  If you would like to schedule a conference by phone with your child's teachers, sign up below. Of course you can always call or ask a quick question too.
Labeling your child's items: Please label everything with your child's name. All clothing, bags, lunch boxes, shoes, blankets, sheets… yes everything. Infant & Toddler Center, please label all bottles, cups, individual food containers, etc with your child's name and date before the items are brought into school. Please label Breast Milk, newly pumped or frozen with your child's name & date. You can find lots of labels on Amazon. We use Evelots Food Labels and Tinabless Bottle Labels.
Wear Sunscreen Everyday: It's Sunscreen Time! If you've stopped applying daily sunscreen, it's time to get back into the swing of things. Children (10 months- 6yrs)  should come to school wearing an SPF 30 or more on all exposed areas of the skin. If you would like us to re-apply a medication form must be completed. We also recommend wearing a hat. We will be having a lot of outdoor fun!  (Always consult your child's physician.)
Spring Change of Clothes: Please make sure your child has at least one complete set of extra spring clothes & shoes. Don't forget to label everything.
Dropping off and picking up in the rain: Infant & Toddler Center: If it is raining, take your child directly to the appropriate door. At pickup go back to the same door. Please always remain outside. Teachers will help children wash their hands inside.
Temporary Hours remain: 8-5 with same drop off and pick up procedures. 
Lunch Menu: Look for the lunch menu in sandbox post.
Sheets & Blankets: All children must have a sheet & blanket for nap time everyday.  Please make sure to send a sheet & blanket at the start of the week.  Please have your child's name printed on them.  Thank you!
Self Screening at home: Keep up the good work! Parents and teachers have been doing an awesome job of self screening and staying home when any concerns arise. No runny noses. No illnesses. Only healthy teachers and children at school.  
Arrival screening: Our arrival screening is going GREAT! Read How we are keeping parents, children and teachers safe for details on self screening and our daily entrance screening. Together we are keeping everyone safe. 
Report and isolate: If you or anyone in your family has had any exposure to any person who has a suspected or confirmed case of COVID-19 report it to us immediately and self isolate. Thank you. Read More 
Never send your child to school if you or anyone in your household is sick with anything and/or if you are waiting for COVID-19 test results for anyone in the household. 
Masks for children 2+ years old: Thank you for helping your children learn how to put on and off, wear, and store their masks properly. We are so proud of all the children and the parents! What a team we are! (No children under 2 can wear a mask.) Read More. 
Traveling? Please let up know your plans so we can provide guidance on what you will need to do for your child to return. 
Illness Policy: We follow a strict written Illness Policy
All families & teachers self-check at home and are checked before entry for any signs of illness. Temperatures are checked. Anything >100° stays home. All illnesses stay home.
Any COVID-19 symptoms require 1+ negative COVID-19 tests and/or 10-14 day quarantine and no symptoms. And administration/director approval. Read More
If your child visits a doctor for any illness, please ask for a return authorization note. Halsey Schools reserves the right to exclude a child from school at any time for any reason, even if a doctor or other recommends otherwise
If we have 3 or more children come down with something (other than COVID-19) we provide more information on the illness.
Stay home with your child if you, your spouse or anyone else who is in your home regularly like a nanny, grandparent, sibling, cleaning person or your child tests positive for COVID-19.  And notify us immediately.If there was possible exposure at school we will notify those possibly exposed directly.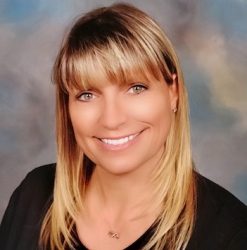 Latest posts by Jenni Rice - Owner & Director
(see all)