Reading well is at the heart of all learning. When you read with your child everyday you can have a powerful impact on children's literacy and learning by promoting positive attitudes about reading and writing. But just simply reading isn't enough. To really engage your child, when you read together, you need to have conversations.
Use conversation when reading together
When reading use conversation to expand your children's vocabulary and bring out their natural curiosity. Here's how to bring conversation to your reading time.
Name what you or your child sees in the pictures. I see a car. Let's count the wheels. What do you see?
Have conversations about emotions that come up in the story. He looks scared! He is happy now that he is safe at home. What scares you?"
Ask open-ended questions and allow time to respond. Questions that have more than one right answer, or ones than can be answered in many ways, are called open‐ended or divergent questions. This way of asking questions stimulates more language use, acknowledges that there can be many solutions to one problem, affirms children's ideas, and encourages creative thinking. Learn more about open-ended questions here.
Choose books that help children expand their understanding of other people, cultures, race and beliefs.
Take reading a step further by labeling objects around the house. Seeing the word lamp on a lamp will help link the written word to the object in your child's mind. Kick it up a notch and add adjectives like small and big.
Interactive daily reading using conversation will increase your child's vocabulary, strengthen your bond, create memories and set your child on the right learning path.
At Halsey Schools we read together using conversation many times a day. Children have direct open access to their own hands-on library in every classroom to read on their own. Please keep it up at home too. Read, Read and Read some more!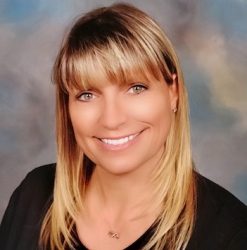 Latest posts by Jenni Rice - Owner & Director
(see all)