Can your five to nine month old do this?
look for things dropped
uncover hidden things
drop things on purpose
hold a bottle*
play with paper
play with things by banging them together
sit in a highchair
change something from one hand to the other
eat some solid foods
reach out with one hand to pick something up
sit without support
support some weight when held in a standing position
babble a string of sounds
get into a sitting position
begin to copy a few familiar sounds
rock on hands and knees
copy some familiar actions
make noise with things on purpose
pick up small things and put into mouth
feed self finger foods
babble to show wants
copy some new sounds you make
take things out of containers
look at pictures when named
pick up, push, or shove large things
pull a string
* Make sure to hold and cuddle baby even when he can hold his own bottle. He needs your warmth and love. And remember-don't put your baby to bed with a bottle. This can lead to ear infections, choking, or tooth decay. Handout Version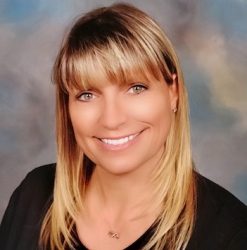 Latest posts by Jenni Rice - Owner & Director
(see all)